Justin Tuck is in the final year of his contract, and he says he doesn't want to think about a new deal. He shouldn't, because his value has probably never been lower. Tuck is going to make $4.5 million this season with workout bonuses on top. He'll cost $6.15 million against the cap. In reality, while Tuck has been a great Giant for years, he's somewhat fortunate that the team hasn't asked him to take a pay cut. From 2007-2010, Tuck was a monster:
In the last 2 years? Not so much:
Let's put those averages side-by-side:
If you're a big Justin Tuck fan, enjoy him this season. If his production doesn't improve, this may be the last you'll see of him in a Giants uni.
Golden Tate said he'd love to give 49ers coach Jim Harbaugh "the Sean Lee treatment." Tate is of course referring to this: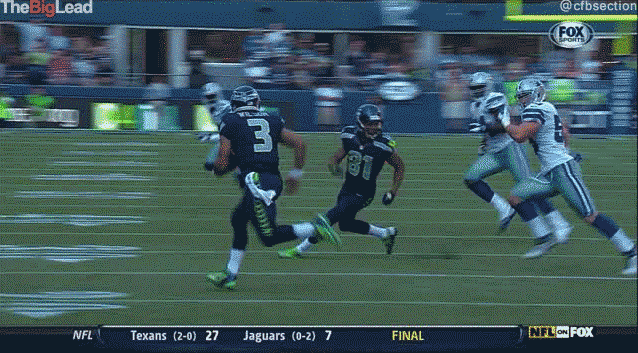 Tate launched himself with the crown of his helmet into Sean Lee's chin, when Lee had absolutely no idea the hit was coming. It looks like Tate killed Lee here, and he did, but let's be clear about one thing. ANYBODY in the NFL can do that to an opponent if they have him lined up like that. There is nothing impressive whatsoever about what Tate did on that block. And it should have been a penalty, but… Remember the replacement refs?
And now he's threatening a coach who turns 50 in December. So, yeah, congrats Golden Tate. You're a tough guy.
I often give ProFootballTalk's Mike Florio a lot of crap for his ridiculous conspiracy theories and click-baiting headlines, but I think he's dead on about recent comments by Joe Theismann. Theismann recently went on the record, seemingly out of the blue, to say that he "was very proud to play for the Washington Redskins," and he did it "to honor Native people in that regard." And sure enough, a few days later, Theismann makes it known that he wants a job with the team calling games on the team's radio broadcasts. A quick timeline:
June 21: Sam Huff retires as Redskins' radio announcer.
June 22: Joe Theismann praises Redskins' name.
June 24: Joe Theismann makes it clear he wants Huff's old job.
Joe Theismann, you are a shameless tool.
Sheil Kapadia of Birds 24/7 spoke with Jason Kelce, who said he'd be making the line calls this season. Sheil got Kelce to go into some depth in talking about OL/QB/RB/TE communication. Good stuff.
Be sure to follow Blogging the bEast on Twitter and like Blogging the bEast on Facebook.