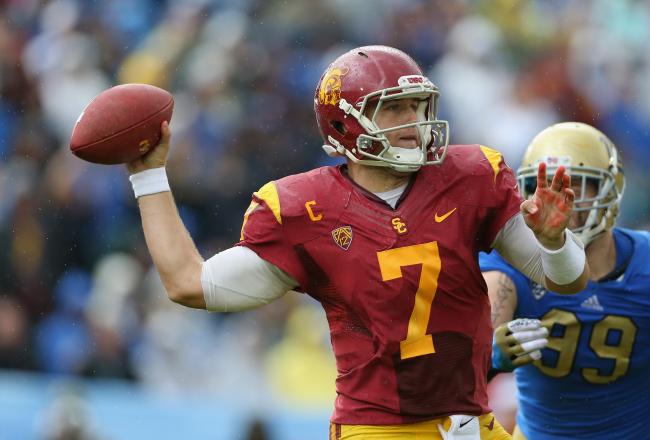 This time last year, a lot of people thought Matt Barkley would be the #1 overall pick in this draft. Instead, he's the first pick on Day 3. NFL Network's Daniel Jeremiah was in Philly last year in the personnel department and had direct knowledge of GM Howie Roseman's affinity for Matt Barkley.
"I spent the last two seasons with the Philadelphia Eagles personnel department, so I know first hand Howie Roseman really was high on Matt Barkley last year, so I think if you would have told him last year that he would be getting Matt Barkley at this point in the draft he'd have been elated for the value they have there. One thing that he loves about Matt… I know that as an organization they like about him is how quick he can think. And we talk about the Chip Kelly offense, how fast-paced it is… You have to be able to think on the move and really crank it up, and they feel like Matt Barkley can operate in that system."
Mike Mayock then speculated that the Eagles specifically jumped ahead of the Chiefs to make the pick:
"Remember who the Eagles jumped ahead of. Howie Roseman and the Eagles jumped ahead of Kansas City with former Eagles head coach Andy Reid. So do you think mentally Howie said "That's where Matt Barkley's going and if I want want him I need to get ahead of them?'"
Albert Breer backed up Mayock's speculation:
I talked to three different teams in the top 10 that believed the Chiefs were going to select Matt Barkley at the top of the 4th round. That was the motivation for the Eagles to move up. That's why GM Howie Roseman decided he needed to get over his old head coach Andy Reid to go and get Matt Barkley.
Another point by Breer on scheme:
"Chip Kelly has consistently told Howie Roseman and the personnel staff over the course of the last few months, 'I'm going to build my team around personnel, not scheme. The scheme is going to be based on the personnel and I'm going to take the best players available. Matt Barkley fits into that."
And finally, Chip Kelly's thoughts:
"We had Matt rated in the top 50 players in this draft and the fact that he was still there, we talked all along that we were going to take value. There was no better value than to open up today than to take Matt. He's the all-time leading passer in USC history, he's one of the all-time great QBs to play in that league, he was a 4-year starter in high school, 4 year starter in college, he has all the intangibles you're looking (for). He's coming off an injury but did not have an operation. He's still developing that, so I think some people evaluated him (on that) just because he's coming off of it. But if you do what everyone talks about, if you go to the film and look at his body of work he's had an outstanding career and we're excited to have him."