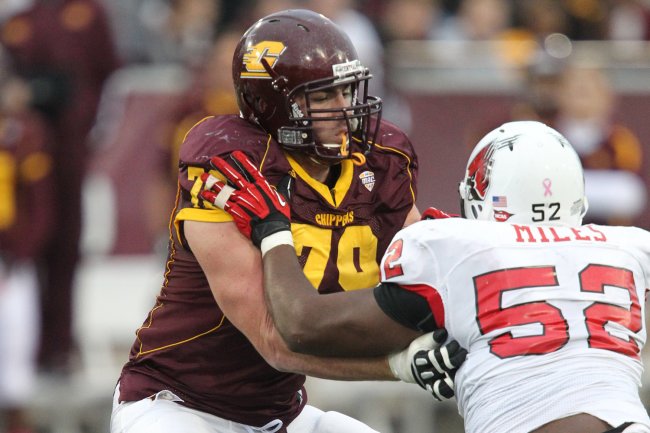 Since last season, Central Michigan's Eric Fisher has had a meteoric rise up draft boards. Here's what I wrote about him at the Senior Bowl:
Eric Fisher, OT, Central Michigan: Fisher's excellent week at the Senior Bowl began at the Monday morning weigh-ins.  Fisher came in at 6'7 1/4″, 305 pounds. He was lean, cut, and looked more like a super-sized athletic tight end than an OT. If his future NFL team wants him to add some weight, he should be able to do so rather easily without losing much in the way of agility and quickness. During practices, he largely dominated really good players like Texas' Alex Okafor and LSU's Lavar Edwards, although Okafor did beat him soundly once to the inside. I suspect Fisher is going to put up very impressive numbers at the Combine.
And indeed he did have a great Combine:
His tape is excellent, albeit against competition that was not anywhere near the level of what Luke Joeckel faced playing in the SEC. Fisher was a good pass protector, but where he really stood out was as an outstanding run blocker. Not to mention, he is almost guaranteed to be among the best players in the history of the league, considering his amazing growing arms.
"Fisher to the Jags" is far from a perfect fit. The Jaguars' best player in 2012 was probably Eugene Monroe, who plays LT, the position you would have slated for Fisher over the long term. In 1996, the Ravens had a good LT in place in Tony Jones. The Ravens were on the clock at pick number 4, and the best player on their board at that pick was Jonathan Ogden. They stayed true to their board and took the best player despite having a good LT in place. Ogden went on to 11 Pro Bowls, 9 All-Pro teams, a Super Bowl victory, and he'll be inducted into the Hall of Fame later this year.
That situation, however, was a little different. Jones was 30 years old, so it made sense to draft Ogden and put him at a different position (he played LG his rookie season), before moving him out to LT. After just one year, the Ravens traded Jones to the Broncos for a 2nd round pick, and Ogden became the Ravens LT for next decade+. In Jacksonville, Monroe just turned 26, and is entering his prime years. Monroe's rookie contract expires at the end of the 2013 season, and he'll be looking to cash in at "premium LT money," which he'll get if his career trajectory stays on pace. It is noteworthy that the Jags have "yet to approach Monroe or his agent about an extension and it's unlikely that will happen during the season."
Still, the lesson to take away from the Ravens is, "Do you just take the best available player, even if it's not the greatest fit?" After all, if the Jags were to draft Fisher while also trying to keep Monroe in the fold, they would essentially be drafting "just a right tackle" with the 2nd overall pick.
Former Ravens scout turned TV analyst Daniel Jeremiah recapped how the latest Ravens Super Bowl team was built. Within that piece, he noted the most important things to GM Ozzie Newsome:
1) "How will he fit in our locker room?"
2) "Does he help us beat the Pittsburgh Steelers?"
I can't answer #1 about Fisher. However, the 2nd question is very relevant. The Jaguars play in the NFC South with the Houston Texans, who employ the best defensive player in the game, JJ Watt. The Texans move him all over the line in their 3-4 defense, trying to get the best possible matchups for him that they can. If you have a significant weakness on your OL, the Texans will find it and let Watt exploit it.
Here is a list of AFC pass rushers who primarily line up on the left side, or are projected to next year, per Ourlads' depth charts:
JJ Watt (as noted already)
Von Miller
Mario Williams
Terrell Suggs
Justin Houston
Lamarr Woodley
Paul Kruger
Jason Babin (although in fairness, Fisher would only face Jason in practice)
Carlos Dunlap
Rob Ninkovich
Those guys can get after the QB, right? Gotta protect both sides.
If the Jaguars are going to be competitive, they're going to have to be strong across the board along their entire OL. That is why I wouldn't get too caught up in the whole "But you're drafting a RT at 2!" thing. If he's the best player on your board, just take him.
Fisher would give the Jaguars a pair of outstanding bookends to protect QB Blaine Gabbert, who just so happens to have the reputation of being skittish under pressure.
Previous picks: