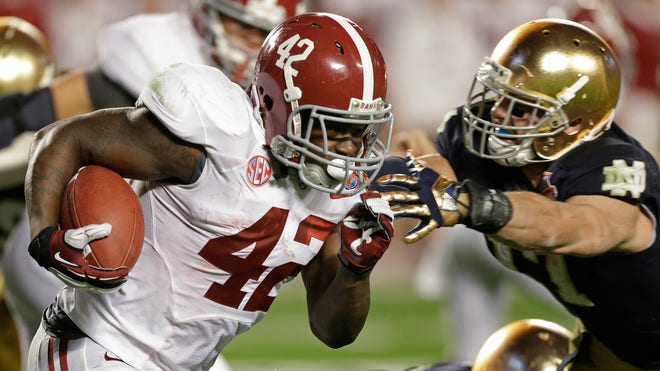 Marvin Lewis has been the head coach of the Cincinnati Bengals since 2003. In his first 5 years on the job, the Bengals selected two running backs, both within the first two rounds, and both with disastrous results:
Those are career numbers, by the way. Perry was a bust, while Irons tore his ACL in the preseason of his rookie season and never received a single carry in the NFL. And then of course there was 1995 #1 overall pick Ki-Jana Carter, one of the biggest busts in NFL history. Perhaps that made the Bengals a little gun-shy about drafting a RB high. How gun-shy? Since 2007, the Bengals have not selected a running back higher than the 6th round.
This year could be the one that breaks that trend. Last season, Bengals RB BenJarvus Green-Ellis ran for 1094 yards and 6 TDs on 278 carries, for an average of 3.9 yards per carry. Without any context, those numbers look "OK." However, the Law Firm produced far less than he should have behind the Bengals' stellar run blocking offensive line.
I happened to watch a lot of Bengals games last season since they played all the NFC East teams. I watched their games against non-NFC East opponents to prepare for the NFCE games, and obviously, I watched them when they played the NFC East. In doing so, I came away thoroughly impressed with the right side of the Bengals' OL, who opened up gaping holes with regularity. Here are some still shots I compiled throughout the course of the season:
Those kinds of gaping holes were common. Green-Ellis is a nice role player. He's a tough runner, and more often than not he'll fall forward. However, he doesn't break many tackles, and his speed/elusiveness is non-existent. Here's a funny tweet from NFL.com's Chris Wesseling about Green-Ellis that I remember from last season:
It was actually 48, just in case you were wondering.
Lacy in some ways is actually similar to Green-Ellis. Like the law firm, he's a tough runner who more often than not will fall forward. However, Lacy is going to break far more tackles and there is no comparison between the two players in terms of elusiveness. Check out Lacy during the National Championship Game (via the great DraftBreakdown.com):
The highlights:
(0:10) – Broken tackles, outstanding feet near the LOS, finishes the run with yards after contact.
(0:22) – I've seen it stated that Lacy lacks burst. He may not have "long speed," but watch this play and tell me with a straight face that he doesn't have burst.
(1:52) – Just… Wow. Great feet. No wasted motion on three consecutive quick cuts through the Notre Dame defense and into the clear. Lacy's lateral agility and even more so… his vision… is on full display here.
(3:03) – Get off of me! Mean streak.
(3:52) – Oh, that nasty spin move.
(4:16) – More broken tackles, great feet on subtle cut to the outside that wastes no motion, and then he just runs over a linebacker.
(4:43) – 4th and 1. Locate the hole, get low, finish. Simple.
(5:23) – Subtle jump cut, then more burst.
(Various examples) – Good in pass pro.
Last season, Green-Ellis was given top choice Grade A meat with which to cook. He made cheeseburgers, which are nice, but kind of a waste. Lacy will make delicious filets.
Previous picks:
1. Chiefs: Luke Joeckel, OT, Texas A&M
2. Jaguars: Eric Fisher, OT, Central Michigan
3. Raiders: Sharrif Floyd, DT, Florida
4. Eagles: Dion Jordan, OLB, Oregon
5. Lions: Lane Johnson, OT, Oklahoma
6. Browns: Geno Smith, QB, West Virginia
7. Cardinals: Star Lotulelei, DT, Utah
8. Bills: Ziggy Ansah, DE, BYU

9. Jets: Barkevious Mingo, OLB, LSU
10. Titans: Chance Warmack, OG, Alabama
11. Chargers: Dee Milliner, CB, Alabama
12. Dolphins: DJ Hayden, CB, Houston
13. Jets: Xavier Rhodes, CB, Florida St.
14. Panthers: Sheldon Richardson, DT, Missouri
15. Saints: Kenny Vaccaro, S, Texas
16. Rams: Tavon Austin, WR, West Virginia
17. Steelers: Jarvis Jones, OLB, Steelers
18. Cowboys: Jonathan Cooper, OG, North Carolina
19. Giants: DJ Fluker, OT, Alabama