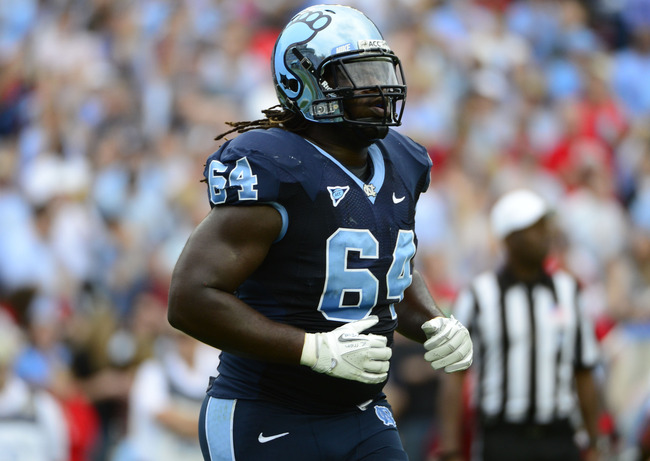 If you're a regular reader of my website, you probably know what's coming here: The Cowboys OL timeline!
2008-2009
With an aging OL in place, the Cowboys had a total of 18 draft picks in 2008 and 2009.  With those 18 picks, they selected one offensive lineman, Robert Brewster.  Brewster is no longer with the team.
2010
In 2010, the Cowboys drafted one offensive lineman, Sam Young, in the 6th round.  Young, like Brewster, is no longer with the team.  They headed into the 2010 season with the oldest offensive line in the NFL.  Leonard Davis celebrated his 32nd birthday just before the start of the season, with Marc Colombo and Kyle Kosier celebrating their 32nd birthdays shortly thereafter.  Andre Gurode was 31.  The one player that was still relatively young was the 26 year old Doug Free, who was taking over at LT for the departed Flozell Adams, who was 35.
The Cowboys were the overwhelming favorites to win the NFC East that season, but in what should have been a fairly predictable outcome, the offensive line went into a sharp decline and the the offense sputtered.  It didn't help that the defense was surprisingly bad.  They finished that season 6-10.
2011
The following offseason, Jerry Jones made the obvious decision to cut bait with Colombo, Davis and Gurode, three players that were playing poorly and making far too much money.  The Cowboys were, in a way, forced into "going young" along their OL.  For the first time in 20+ years as the Cowboys' GM, Jones spent a first round pick on an offensive lineman, scoring the extremely talented Tyron Smith out of USC.  They would take a couple more offensive linemen in the 4th and 7th rounds, grabbing David Arkin and Bill Nagy, respectively.  They also locked up Free to a long term deal, paying him $32 million over 4 years. It appeared that after years of ignoring the OL, it was finally becoming a priority, albeit way too late.
To begin the season, the Cowboys started two rookies: Nagy at LG, and Tyron Smith at RT. They also plugged in 2nd year player Phil Costa at center.  Kosier was moved from LG over to the right side to be sort of an "offensive tackle whisperer" for Smith.  In one offseason, they went from the oldest offensive line in the league to one of the youngest.
With so many new and unproven players inserted into the lineup, the Cowboys' offensive line once again sputtered all season, this time even more predictably than in 2010.  Smith had a great rookie year, but the two other new pieces, Costa and Nagy, both had brutal seasons.  Costa's poor play lasted 16 games, while Nagy's bad season was cut short in Week 6, when he was lost for the season with a broken ankle.  Kosier's decline and health issues continued.  Free, meanwhile, was a major disappointment, having a surprisingly bad season.  The Cowboys were learning that turning over a full offensive line in a short amount of time isn't exactly easy.  They hit with one player, missed with two, and were heading into 2012 once again needing to scramble to find answers.
2012
The Cowboys' plan of attack for the OL in 2012, as usual, puzzled me.  First, they signed OG Mackenzy Bernadeau, a player that had a couple bad seasons in 2009 and 2010 in Carolina, who then lost his job in 2011. The Cowboys then went out and signed 30 year old Nate Livings, a player that Bengals fans by and large were more than happy to see leave. With Livings and Bernadeau in place, the team felt comfortable cutting Kosier.  On the outside, the Cowboys flip-flopped Smith and Free, with Smith moving from RT to LT, and vice versa. No offensive linemen were drafted.
Heading into 2012, the Cowboys had an almost complete lack of continuity along their OL:
Costa was lost for the season early on, Livings played better than expected, Mackenzy Bernadeau did not play well, and Doug Free's contract now looks like a horrible mistake, as he was bad for the second straight year.
The team still has next to no depth along the OL, and one of the worst C-RG-RT combos in all of football.
Tony Pauline recently reported that teams seem to be split 50/50 on Warmack and Cooper, as far as who they like better. Pauline also noted that if an NFL team wanted Cooper to bulk up a bit, he could do so without losing much of his agility:
The biggest story thus far is the number of teams that have Jonathan Cooper/G/North Carolina ranked higher than Chance Warmack/G/Alabama on their offensive guard board.  He's much better blocking in motion compared to Warmack and a natural fit for a zone blocking scheme.  Teams have referred to Cooper as "special" and they feel in time he can add weight, which will only improve his run blocking.    I was told Cooper was told to purposely keep his weight down at North Carolina and would have no problem carrying additional bulk.
The Cowboys are moving toward more of a zone blocking approach, so Cooper would fit in well, and would be outstanding value at 18. Personally, I'm surprised myself that he fell this far, but that's just how it played out. Even Jerry Jones couldn't pass up this offensive lineman.
Previous picks:
1. Chiefs: Luke Joeckel, OT, Texas A&M
2. Jaguars: Eric Fisher, OT, Central Michigan
3. Raiders: Sharrif Floyd, DT, Florida
4. Eagles: Dion Jordan, OLB, Oregon
5. Lions: Lane Johnson, OT, Oklahoma
6. Browns: Geno Smith, QB, West Virginia
7. Cardinals: Star Lotulelei, DT, Utah
8. Bills: Ziggy Ansah, DE, BYU

9. Jets: Barkevious Mingo, OLB, LSU
10. Titans: Chance Warmack, OG, Alabama
11. Chargers: Dee Milliner, CB, Alabama
12. Dolphins: DJ Hayden, CB, Houston
13. Jets: Xavier Rhodes, CB, Florida St.
14. Panthers: Sheldon Richardson, DT, Missouri
15. Saints: Kenny Vaccaro, S, Texas
16. Rams: Tavon Austin, WR, West Virginia