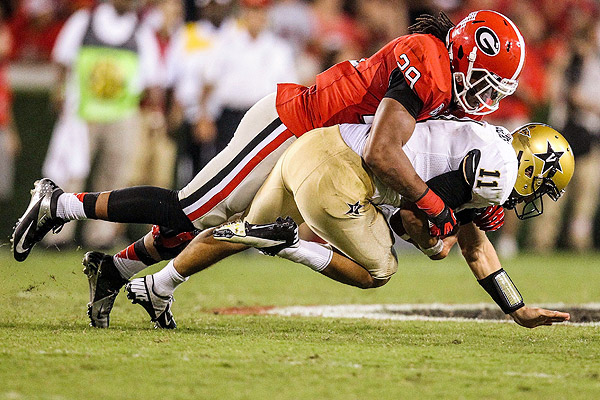 Last season, Lamarr Woodley had a bad season, and he missed time because of an assortment of injuries. Per Ed Bouchette of the Pittsburgh Post Gazette, The Steelers were not happy with Woodley's conditioning:
The Steelers believe that Woodley needs to approach his offseason workouts with more diligence to avoid the kinds of injuries that have dogged him the past two seasons. He still has great pride in what he does, but must understand that he cannot do it if he's constantly hurt, and all of his injuries have been in his legs and usually involve muscles. He needs to specifically work on his hamstring issues because those can linger — as they have for him — if not strengthened.
The Post-Gazette's Ron Cook reported on a player who had a much more scathing take on Woodley and his commitment:
"He was awful," one teammate said of Woodley's performance last season.

"He tells us he works out, but we didn't see it. He wasn't in shape. That has to be a reason why he was always hurt."
Ouch. Awful or not, Woodley isn't going anywhere. He signed a huge contract in 2011, and he'll almost assuredly be on the team through 2014, since it would cost more to cut him than to keep him:
Meanwhile, the Steelers let James Harrison walk in free agency, and he signed inside the division with the Bengals.
With Harrison gone, Jason Worilds, who the Steelers drafted in the 2nd round in 2010, would be the next man up. Worilds had 5 sacks last season as a reserve, but that's less impressive than it sounds. I went back to look at the tape and there was nothing impressive about any of his 5 sacks:
Week 1 vs Broncos: Unblocked.
Week 5 vs Eagles: Unblocked.
Week 6 vs Titans: Single blocked by RB Chris Johnson, cleaned up after Brett Keisel got initial pressure.
Week 12 vs Browns: Single blocked by a TE, who Worilds did beat on to the inside.
Week 12 vs. Browns: QB Brandon Weeden had a ton of time, rolled out, and with a lead in the 4th Q, he laid down to keep the clock running instead of throwing it away. Worilds tagged him down.
Worilds also happens to be a free agent after this season.
The Steelers, for the first time in a long time, could use pass rush help on the outside. Jarvis Jones led the nation in sacks in 2012 and was tied for second in 2011:
Unfortunately, significant medical concerns hurt his stock initially, but horrible workout numbers may have done even more damage. Here were Jones' workout numbers:
Sometimes we make too much of 40 times, but a 4.92 for an OLB who weighs 242 pounds is a huge red flag. Jones is being compared to Terrell Suggs, who also had outstanding production in college and disappointed in the "Underwear Olympics." Suggs ran a 4.85 at his Pro Day, which made him fall to 10th overall. It should be noted that Suggs had 24 sacks his final year in college, which is just 4 less than Jones had in his last 2 college seasons.
If we were going just on Jones' tape, he would be a sure-fire no-brainer Top 5 pick. However, even though the tape is really the most important thing, the medicals and the measurables will hurt him, as they should. Still, this is good value for the Steelers at 17. With Harrison gone, Woodley perhaps in need of a wake-up call, and Worilds not having proven anything yet, a pass rusher at OLB makes sense, and the Steelers get the most productive one in the country.
Previous picks:
1. Chiefs: Luke Joeckel, OT, Texas A&M
2. Jaguars: Eric Fisher, OT, Central Michigan
3. Raiders: Sharrif Floyd, DT, Florida
4. Eagles: Dion Jordan, OLB, Oregon
5. Lions: Lane Johnson, OT, Oklahoma
6. Browns: Geno Smith, QB, West Virginia
7. Cardinals: Star Lotulelei, DT, Utah
8. Bills: Ziggy Ansah, DE, BYU

9. Jets: Barkevious Mingo, OLB, LSU
10. Titans: Chance Warmack, OG, Alabama
11. Chargers: Dee Milliner, CB, Alabama
12. Dolphins: DJ Hayden, CB, Houston
13. Jets: Xavier Rhodes, CB, Florida St.
14. Panthers: Sheldon Richardson, DT, Missouri
15. Saints: Kenny Vaccaro, S, Texas