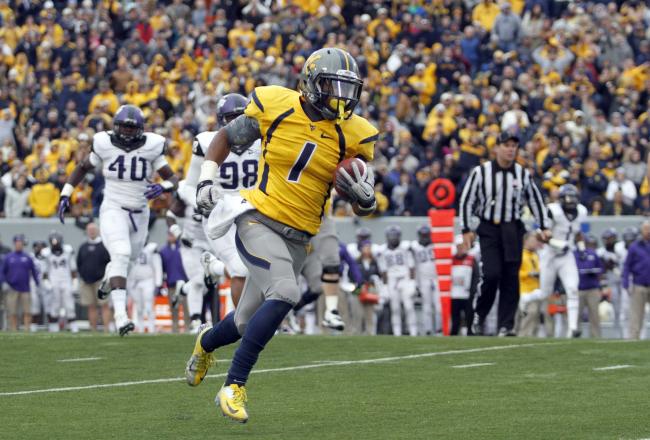 Last season, Rams slot receiver Danny Amendola had 63 receptions. However, he only had 3 TDs and a yards per catch average of 10.6.
There were 39 players (31 receivers) who had more catches. There was only one WR who had more catches but fewer TDs. That was Miami's Brian Hartline, who had 74 catches, 1 TD. Additionally, there was only one WR who had more catches but a smaller yards per catch average. That was Tennessee's Kendall Wright, who averaged 9.8 yards per catch on 64 receptions.
In 2010 (he missed almost all of 2011), Amendola had 85 catches, and again, only 3 TDs. He averaged an extremely low 8.1 yards per catch. How low is 8.1 yards per catch for a WR? Well… in 2010, you would have to go all the way down to some guy named Brandon James to find a WR who averaged fewer yards per catch. James had a grand total of 6 catches on the season:
In other words, while Amendola made a decent number of catches, there was absolutely no reason to fear him once he had the ball in his hands.
Since I cover the NFC East, I'll liken Amendola to a much more valuable player with the Cowboys, Jason Witten.
Witten doesn't scare me at all anymore. On the one hand, he caught 110 passes last season for 1039 yards. He did so on 150 targets. The Cowboys had 5 players this season with at least 30 targets. Among that group, Witten had the highest completion percentage, with a very high 73.3%.
However, among that same group, Witten had the lowest YPA:
He only managed 9.4 yards per catch, which was almost 2 yards less than his career average. He has also only managed 8 TDs over the last 2 years. In today's NFL, so many teams are finding success making opposing offenses dink and dunk their way down the field. They either capitalize on mistakes by forcing turnovers, or they're tightening up in the red zone. And so, a player like Witten, who is no longer stretching the field the way he used to or producing in the red zone, is not going to put much fear into many teams.
Amendola serves a similar purpose as a guy like Witten in the passing game, minus the ability to block in the run game.
During free agency, Amendola left to sign with the Patriots. In my opinion, that's not a loss at all. Insert Tavon Austin. Note the absurd number of yards after the catch he gets in the video below. I hate to let a highlight film serve as my analysis of a player… but, I mean… look at this guy:
I shudder at the thought of him on that St. Louis turf.
The great Josh Norris of Rotoworld cautions against banking on Austin falling this far to the Rams:
I happen to agree. If Austin goes somewhere in the Top 10, I won't be surprised in the slightest. However, I'd be absolutely stunned if he got past the Rams at 16. If indeed Austin is gone by the time the Rams are on the board, the pick could be DeAndre Hopkins:
Previous picks:
1. Chiefs: Luke Joeckel, OT, Texas A&M
2. Jaguars: Eric Fisher, OT, Central Michigan
3. Raiders: Sharrif Floyd, DT, Florida
4. Eagles: Dion Jordan, OLB, Oregon
5. Lions: Lane Johnson, OT, Oklahoma
6. Browns: Geno Smith, QB, West Virginia
7. Cardinals: Star Lotulelei, DT, Utah
8. Bills: Ziggy Ansah, DE, BYU

9. Jets: Barkevious Mingo, OLB, LSU
10. Titans: Chance Warmack, OG, Alabama
11. Chargers: Dee Milliner, CB, Alabama
12. Dolphins: DJ Hayden, CB, Houston
13. Jets: Xavier Rhodes, CB, Florida St.
14. Panthers: Sheldon Richardson, DT, Missouri