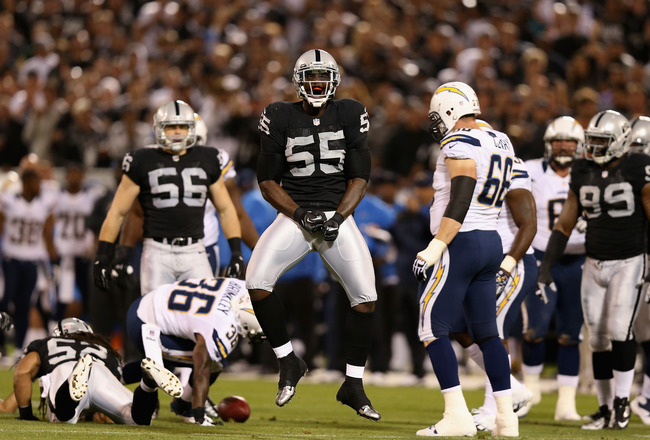 Whenever a player of note is released, fans of the other 31 teams will often begin to picture that player in their team's colors. Yesterday, the Raiders waived Rolando McClain, as expected. McClain was the 8th overall pick in the 2010 draft, and has prototypical size/speed (at about 6'4, 260) for an inside linebacker in the NFL, and he's still only 23. He wasn't a bad player in Oakland, but clearly he has been a disappointment for an 8th overall pick.
Let's just list some notes on McClain in bullet-point form:
• McClain had a very good season, statistically, in 2011. The number that stands out is McClain's 5 sacks that season. However, they're a little misleading. I took a look at the tape, and two or three of them weren't legit.
One of them was a trick play by the Bills, in which the QB threw backwards to the WR, who then looked to throw the ball down the field. Nothing was there so the WR ran around in the backfield for a while before eventually being tackled by McClain. Apparently, you get credited for a sack when that happens.
On another sack, McClain got credit for pushing Caleb Hanie out of bounds. Hanie threw the ball away before he stepped out of bounds, but the officials ruled him out, thus giving McClain the sack.
A third sack came against the Packers, and while it was legit, it came when the Raiders were losing 46-7.
• There's baggage:
In January of 2011, McClain pointed a gun at somebody and fired it next to his head. He was convicted of third-degree assault, reckless endangerment, menacing, and unlawful discharge of a firearm. He was sentenced to 45 days in jail for each offense, totaling 180 days. The charges were eventually dropped when the victim opted to stop pursuing prosecution.
He was suspended for two games in November 2012 for reportedly getting into a verbal argument with head coach Dennis Allen. Details on the nature of the argument are murky, but it was serious enough for Allen to suspend a starter for two games.
In January of 2013, McClain was issued a ticket, which he reportedly signed "F*** Y'all" instead of his name. He was arrested for providing a fake name to police.
Is McClain just young and immature? If so, maybe he can grow up. Or is he just a colossal dickhead? Either way, there are risks if you sign him. Do you want that guy in your locker room?
• It wasn't just the disciplinary reasons why McClain was waived. He was making far too much money for what he was worth. Per Yahoo:
McClain had $10.31 million remaining on his five-year, $40.25 million rookie contract and is scheduled to earn $4.255 million in total cash compensation 2013 and another $6.055 million in 2014.
Ah, remember the days when rookie contracts were beyond ridiculous? If McClain clears waivers on Monday, or rather, when McClain clears waivers on Monday (nobody is touching his contract with a ten foot pole), he'll be free to sign a new contract with any team.
• The Cowboys and Redskins probably can't sign him even if they wanted to, and I don't think he makes much sense for either team anyway.
• The Giants could be an interesting landing spot. They recently signed Dan Connor, but his contract is not of the "this guy is definitely making the team" variety. McClain would be an upgrade over Connor in terms of ability. If you're the Giants and McClain can come cheaply enough, maybe you let him battle it out with Connor in camp. Perhaps Tom Coughlin can instill some discipline into McClain.
• The Eagles are also an interesting option. For one, according to Chip Kelly, "Big people beat up little people." As mentioned above, McClain is "big people" at 6'4, 260. DeMeco Ryans can be cut at any time with no penalty. That's not supposed to sound like I'm kicking DeMeco out the door. However, if you bring in McClain, he proves to be more behaved, and DeMeco doesn't play well going back to the 3-4, maybe McClain can be your ILB in 2014 and beyond. The Eagles did watch tape on McClain when it was thought the Raiders would cut him during the season. (h/t Tommy on that find). Plus, McClain would be another one of those former high school stars that the Eagles seem to gravitate toward. McClain was the 35th ranked high school prospect by Rivals.com in 2007.
McClain is an intriguing talent. Somebody will take a chance on him.
Be sure to follow Blogging the bEast on Twitter.