OFFENSE:
QB: Here's what we know:
Kirk Cousins, at the very least, has proven that he is a competent backup. He may be more.
Rex Grossman is a free agent.
Here's what we don't know:
When will Robert Griffin III be ready to play?
There are a number of good QBs in the upcoming draft, which makes for an interesting scenario for the Skins. If RG3 hadn't torn his ACL, the Skins might be inclined to draft a 3rd young QB to groom along with the two kids already in place. Since you already know you have a couple of hits in RG3 and Cousins, if the Skins wanted to carry 3 QBs, why not spend a mid-late round pick on a project? But alas, RG3 did tear his ACL, so that could mean that Grossman could be back, or perhaps some other veteran scrub-a-dub. The way the Skins address the QB position during free agengy could be a clue into what the Redskins really think of RG3's timeline for return.
RB: I like what the Redskins have at running back, but Mike Shanahan's love of drafting that position can't be overlooked.  In 17 years of coaching (which doesn't include his short stint in Oakland), the Broncos & Redskins drafted 18 running backs under Mike Shanahan. The list of picks:
I kind of get it. Running backs get battered more than any other position on the field so it makes sense to bring in fresh blood every year, particularly in the later rounds, although I don't see it as a position of need.
WR: I've seen some people consider WR a need for the Skins because they don't have that "#1 WR" kind of guy. Would it be nice to have that kind of player? Sure. But can you win with a deep group of "good not great" receivers? You sure can. Pierre Garcon is one of the best players in the league at getting yards after the catch, and Josh Morgan showed similar abilities once he had the ball in his hands. Meanwhile, Aldrick Robinson is a guy that has shown he can stretch the field and made huge plays with his speed. That trio has the potential of being very good.
The unwritten definition of a "#1 WR" is a guy that forces opposing defenses to game plan specifically for that player, a guy that attracts significantly more attention, and makes it easier for his teammates to be successful. Say, for example, like this: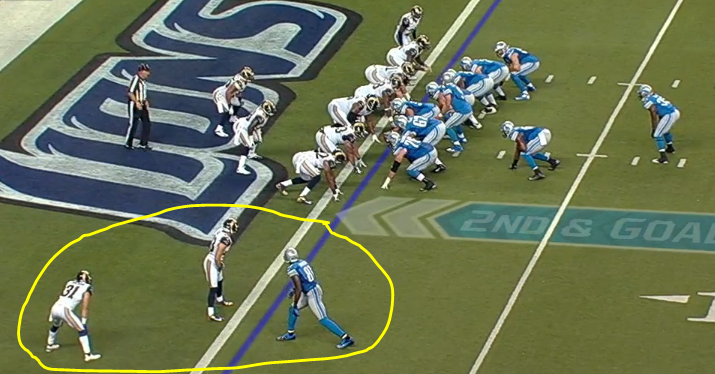 The problem is that Calvin Johnsons don't grow on trees. Take a look at the teams that made the playoffs this year, and let's examine if a "#1 WR" resides on their roster:
49ers: No
Ravens: No
Atlanta: Yes
Patriots: Yes
Packers: No
Seahawks: No
Broncos: Yes
Texans: Yes
Redskins: No
Vikings: No
Bengals: Yes
Colts: No
31% of the teams that made the playoffs had a quote-unquote "#1 WR."
The one guy that got a fair share of snaps last season that has not impressed me is Leonard Hankerson. Plus, Santana Moss is set to make $4.15 million this season – The Skins will have to make a decision there. Shanahan is wide receiver collector, so it wouldn't surprise me if they add in a few guys. However, I like what they have at the top, and I think that having a "#1 WR," while certainly a valuable luxury, is not imperative to a successful offense… and it's not like they're easy to find.
TE: If you read this site regularly, you know how much I like Fred Davis. But he's a free agent, and the franchise tag number for TEs this season is estimated at $5.962 million. If the Redskins choose to tag Davis, they'll have to do so at $6.54 million, which is 120% of what he made last season. That's a steep price for a guy coming back from a torn Achilles and some questionable off the field stuff.
Logan Paulsen is a nice role player, and Niles Paul remains a project at TE. Regardless of whether the Skins are able to bring back Davis, this is absolutely a position that could be addressed, as it's one that can be a significant weapon in the Skins' offense.
OL: The Skins' OL missed 1593 snaps in 2011:
That OL was a disaster.
In 2012, with basically the same personnel to begin the season, swapping out an ineffective Jammal Brown for an ineffective Tyler Polumbus, they only missed 239:
That 2012 version of the OL was monumentally better than the 2011 version, but still lacks depth. Josh LeRibeus was a 3rd round pick last year, but we don't quite know what he is yet, and the Skins have almost nothing in the way of depth at OT. They cannot count on the good health the OL was fortunate to have last season to continue. (On a side note, I'm contractually obligated to mention Josh LeRibeus' male modeling career whenever his name comes up.)
What the Skins do have at this point is nice continuity. Kory Lichtensteiger is a free agent, and a player that, based solely on talent, can be replaced rather easily. However, due to the continuity the Skins have developed, he's probably worth more to the Skins than any other team. It makes sense to bring him back, as long as some other dopey team out there doesn't make him a dumb offer.
Tyler Polumbus is also a free agent. The Skins need an upgrade there regardless of whether or not he re-signs with the team. I still believe the OL remains a significant need area.
DEFENSE:
DE: Stephen Bowen had 6 sacks in 2011. He had 1 last year. I'm not worried about Bowen. He's a good player and should have plenty left in the tank, at 29 years of age. I am, however, worried about DE depth. Jarvis Jenkins was OK in 2012, and should only get better better, but there's very little beyond that.
DT: I am an enormous Barry Cofield fan. He a good pass rusher, he's smart, he hustles his ass off, an he's a guy that his teammates respect. However, he's not the best run stopping NT you'll find. I originally questioned Cofield's fit as a NT in the 3-4 when the Skins plugged him in there, and still think it's a bad fit, in the sense that Cofield's talents aren't being maximized there. However, Cofield is such a good player that he has made it work to some degree. The Skins should think hard about getting a better run-stuffer to ease Cofield's workload on traditional running downs.
OLB: No worries here, in my opinion. Ryan Kerrigan is a 10-year NFL starter, Brian Orakpo will be returning, and Rob Jackson made a number of HUGE plays this season when he had to sub in for Orakpo. Good to go.
ILB: Is London Fletcher retiring? If not, the Skins have themselves another 1-year reprieve in which Keenan Robinson has a chance to develop. If he does retire, Fletcher will leave an obvious hole in the middle of the Skins' D. One positive from the 2012 was the play of Perry Riley, who looks like he's a legitimate starting ILB, although I might be worried how he'll play if Fletcher's assignment calling duties were to be passed on to Riley. Another potential short-term replacement at ILB could be Lorenzo Alexander, who is a free agent.
CB: DeAngelo Hall is set to make $7.5 million this season. Hall has the occasional big game (Dez Bryant last season), but there is no way in hell the Skins can justify paying that kind of money to a guy who is more often bad than he is good. Can they get him to restructure? If not, ga'bye. Josh Wilson remains a decent starter, and Richard Crawford showed some glimpses that he can play. But clearly, this is a position that needs to be addressed.
S: Brandon Meriweather played half of one game last season (against Philly), and he was awesome. Unfortunately, the following is on Meriweather's resume:
He played a grand total of 44 snaps last season.
Two teams gave up on him in less than a full calendar year.
He was pulled over at 2:54 AM last April, and refused a breathalyzer test.
During an on-field brawl when he was in college at Miami, he kicked a few opposing players.
He has been involved in bizarre circumstances, like the time someone was charged with raping a woman in his home, and the time he was involved in a gun fight in which one of his teammates was shot. He was never charged with any crimes stemming from those two incidents.
Meriweather is by far the most talented of the Skins' safeties, and it's not even close. But would you want to hitch your wagon to him? Meriweather aside, unless DeJon Gomes makes a big leap in his 3rd year, the Skins do not have any other safeties worthy of starting in the NFL. Safety is clearly the Skins' biggest need this offseason.
K/P: Kai Forbath will be back. Sav Rocca is a free agent.
Be sure to follow Blogging the bEast on Twitter and like Blogging the bEast on Facebook.