• The 4th quarter crowd last night: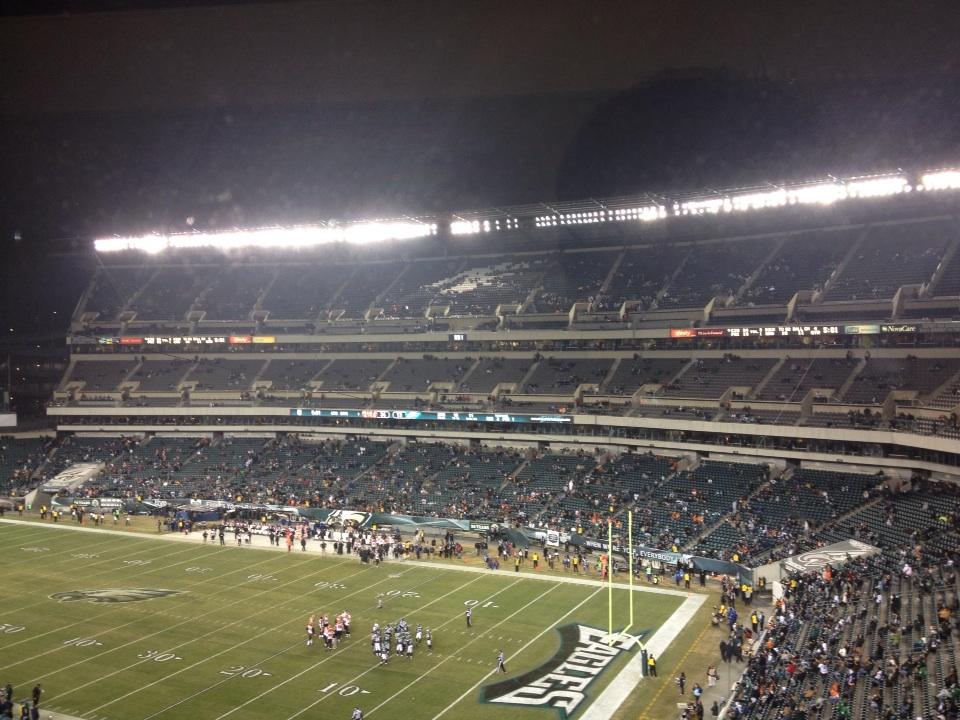 • Here were the Eagles' "drives" at the end of the 3rd quarter heading into the 4th last night:
And then the fine folks over at ESPN either got confused, or already knew the Eagles were about to turn it over again, because they listed this drive under the Bengals:
And finally, this:
That's 63 seconds of possessing the football (if that's what you'd even call it), 4 turnovers.  Actually, I'm not even mad. That's amazing.
Continued…
• The Eagles are now tied for dead last in the NFL in turnover differential, at -22.  And Marvin McNutt's punt butt block doesn't even count as a turnover.  Speaking of McNutt, evidently you don't want to have a "McN***" last name when you face the Bengals.  A few years ago, Donovan McNabb had no idea games could end in a tie in Cincinnati.  And this year, McNutt summed up the Eagles' entire season on a play in which he blocked his own team's punt.
• Backup center Matt Tennant saw his first game action of the season last night.  On his first snap, the Eagles had him report as an eligible receiver, and they threw it to him.  He dropped it in the end zone.  Eagles doing Eagley things.
• I'm not sure if the Eagles are insisting on calling run plays to the outside for Bryce Brown, or if he's trying to bounce everything that way.  Whatever the case, it isn't working.
• Nick Foles is getting slammed by a number of people.  I don't understand that.  He didn't have a great game by any means.  The interception he threw was terribly underthrown, and the long pass play to Maclin could have been a TD if the ball were more on target (again, it was underthrown). His deep balls do not look good through his first few games in the NFL.  He has a number of strengths, but that appears to be a glaring weakness.  Still, we're talking about an offense that:
And…
B) …is missing, what, like 18, 19… 20 players? I lost count.
• Brandon Graham appears to have put some of the "bust" talk to bed.  He's playing excellent football.  2.5 sacks last night, and at least one play where he forced a holding call.  I spoke with Bengals RT Andre Smith after the game, and he was impressed with Graham.  Fletcher Cox is also a beast.  Graham, Cox, and that guy that now plays in Jacksonville are all tied for the team lead with 5.5 sacks.  God, that was a depressing sentence to type.  Still, the defensive line was a bright spot last night, amid a cavalcade of comedic awfulness.
• In the press box last night, the Eagles shifted near the goal line pre snap, and there were the two tailbacks in the backfield.  I said, "Here comes the shovel pass." And sure enough…
• Hey Rob Ryan… They called a hold on Andre Smith last night.  Happy?
• Bo Jackson had 2 fumbles his rookie season. Bryce Brown is credited with 4, but he actually has 6.  Vick and Foles were each credited with fumbles that were Brown's fault.
• On the blocked punt, Andy Reid said in his post game presser that LB Ryan Rau was not on the field because he was celebrating about getting a stop with the defense.  Think about that for a minute… The Eagles were punting.  So, they um, had the ball prior to the punt, right?  So was Rau celebrating the Bengals' defensive stop, or was he just celebrating the Eagles previous defensive stop for like… a really long time?
• The Bengals' locker room was giddy after the game.  That visitor locker room is the happiest place in the Linc lately.  I wrote about the Bengals players finding the Eagles ball security issues amusing over at the Allentown Morning Call.  A Bengals staffer was mimicking Brown on that play, pretending he was about to be hit, closing his eyes tightly & exclaiming "Noooo!"  From the press box, I don't have the benefit of seeing the TV feed, but evidently this is what he was mimicking:
Be sure to follow Blogging the bEast on Twitter and like Blogging the bEast on Facebook.