• First, the obvious: Dez Bryant is finally performing up to his talent.  And then some.  We noted earlier that he wants to make plays once he has the ball in his hands.  That may sound a little like the Chris Rock bit where parents want credit because they take care of their kids (that's what they're supposed to do), but finding receivers these days that truly make themselves a weapon once they have the ball are becoming few and far between.  Dez is becoming one of the best in the league at getting YAC.  And that one-handed catch along the sideline while keeping both feet in… Wow.
• Tony Romo was also great.  Of course, when you're throwing to receivers like it's a 7 on 7 drill, it gets a little easier.  But give Tony credit.  He found the open guys and hit them.
• The Cowboys' defense is in big trouble.  The Eagles haven't scored more than 24 points in any game all season, and the Cowboys give up 27 to an Eagles offense that is missing 7 starters?  I realize that the Cowboys' defense is also banged up, but… yikes.
• Doug Free is awful. 14 penalties on the season (2 last night), and a couple sacks allowed last night.  His salary cap number next season is $10 million.  Ouch.  RT has to be a priority for the Cowboys this offseason.
• Murray ran for 86 yards on 23 carries.  Not great.  Still, a gimpy DeMarco Murray >>> Any version of Felix Jones.
• So… Did DeMarcus Ware have to make a poopy during the game last night?  There were a lot of conflicting reports as to why he had to head to the locker room.  Here they were, in succession:
Come on, DeMarcus.  Don't fake a broken bone scare because you're embarrassed that you had to make stinky time.  We all make poopies.  It's nothing to be ashamed of.
• Jason Garrett's clock management is terrible.  I talked about that a little earlier today.
• Staying on the "end of the half" theme, Dallas got away with some atrocious defense.  Here's a long ball that Nick Foles overthrew to Jeremy Maclin, who smoked Brandon Carr:
How do you get beaten that badly… deep… when there's like 30 seconds left and the other team has the ball at their own 37?  Carr was rather unimpressive last night.  He was also the defender that got beaten on the TD throw to Riley Cooper.  Never turned to find the ball.
Continued…
• I've been begging camera crews around the league to show Jerry Jons in the box more, and when they finally do, he's dancing a jig after the Mo Claiborne fumble return.  Not the "Jerry Jones in the box" I was looking for. However, they did catch this, which I thought was funny.  Synchronized nail biting!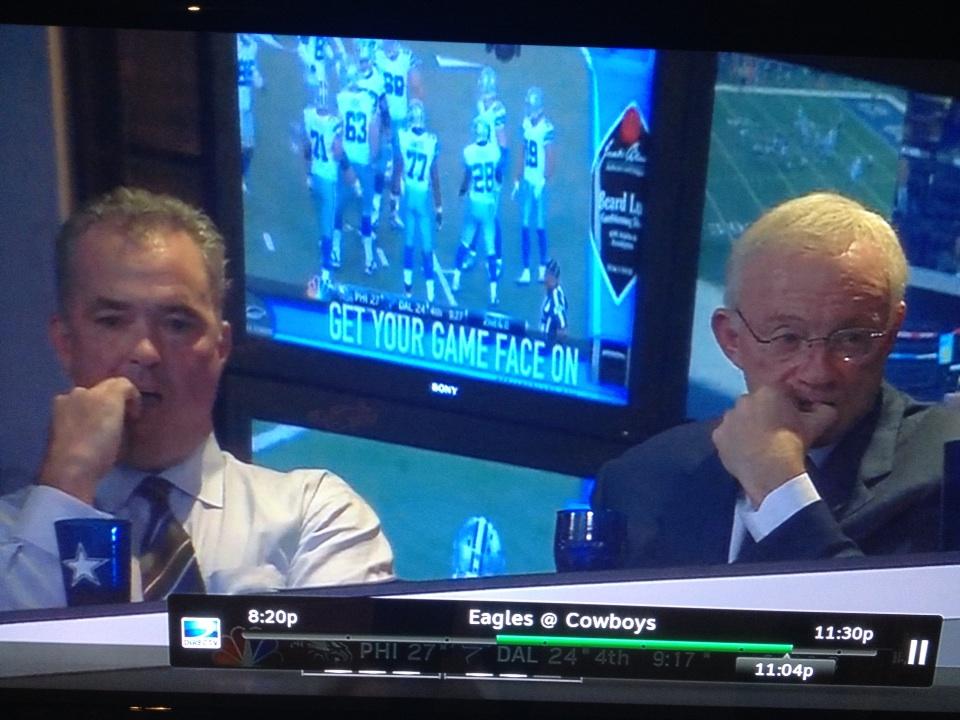 • Anthony Spencer had another good game, even if the stat sheet didn't look all that impressive.  If Dez Bryant is the "breakout player" on the Dallas O, Spencer is the "breakout player" on the Dallas D.
• The Cowboys have three defensive TDs this season.  They're all against Philly.
• Check out Nate Livings (#71) on Dez Bryant's 23 yard TD catch.  For some reason, I can't find video of that play that I can embed here.  Dumb, NFL.  Anyway, definitely worth looking for him if you happen to see a reply of that play.
Be sure to follow Blogging the bEast on Twitter and like Blogging the bEast on Facebook.