The Eagles are the third worst team in the NFL in Red Zone TD percentage, at 38.71%.  From 2009 to 2011, the remaining span during which the Eagles have employed DeSean Jackson and Jeremy Maclin as their starting wide receivers, they finished in the following positions in the NFL:
2011: 51.52%, 14th in the NFL.
2010: 52.46%, 16th in the NFL.
2009: 49.06%, 21st in the NFL.
Needless to say, Red Zone efficiency has not been a strength of the Eagles during the tenures of DeSean Jackson and Jeremy Maclin.
Jackson and Maclin are both finesse players.  Their game is speed, which is great in between the 20's, but not so much inside the 20, where the field is shortened.  While both players have value, they don't exactly compliment each other.  Jackson is generously listed at 5'10, while Maclin is a hair over six feet tall.
When you look at the other teams that finish high in Red Zone TD percentage, there is a common theme.  Those teams either have stellar QBs, or a tall, talented WR.  Take this year for example. The top five teams in the NFL in Red Zone TD percentage are the Saints, Packers, Buccaneers, Patriots, and Broncos.  Four of those teams have elite QBs.  The 5th has Josh Freeman, who has been helped immensely this season by the free agent acquisition of 6'5 WR Vincent Jackson.
Vincent Jackson has 7 TD catches this season.  Most of them were in the Red Zone, all delivered high (note the ball circled in some of the below frames):
Continued…
Where did Tampa finish in Red Zone efficiency the last two seasons?  17th and 19th.
Last season, there were four teams that finished above 65% in Red Zone TD percentage.  There weren't any other teams that finished higher than 60%.  Those top 4 teams: The Lions, Jets, and once again, the Packers and Patriots.  The Lions got a career year out of Matthew Stafford last season, and 6'5 WR Calvin Johnson was SO good that he has begun to draw this kind of coverage in the Red Zone from opposing defenses: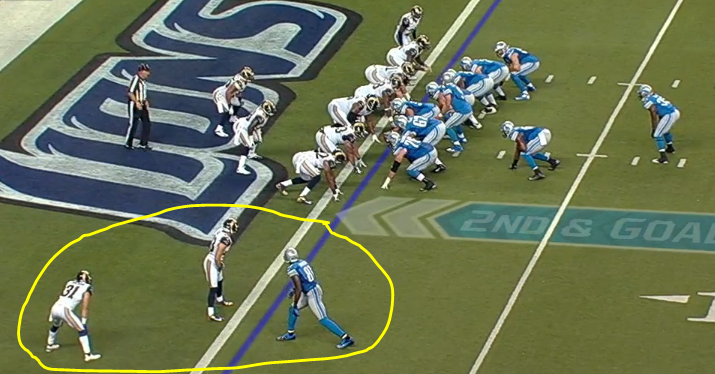 More interesting, however, were the 2011 Jets, who, incredibly, finished 2nd, despite not having a QB that most NFL followers would consider anything close to the likes of Tom Brady or Aaron Rodgers.  In 2009 and 2010, the Jets finished 17th and 28th in red zone TD percentage.  In 2011, they employed Plaxico Burress.
During this offseason, I went to the tape to see what Burress' collection of TDs actually looked like.  Seven of the eight were in the red zone, and seven of them (one outside the red zone) were plays in which Mark Sanchez simply threw the ball up high, and basically said "Go up and get it, big fella."  A quick pictorial look at those seven TDs (again, note the ball circled in red on some of the below stills):
Simply being tall doesn't mean a receiver will automatically be good in the red zone.  If that were the case Manute Bol (RIP) would be in the Pro Football Hall of Fame instead of embarking on a spectacular career in the NBA and on Saturday Night Live.
The Eagles currently employ one WR that is over 6'1.  That would be 6'3 Riley Cooper.  Two weeks ago, Riley Cooper caught a fade route from Michael Vick:
That prompted CSN Philly's Reuben Frank to joke via Twitter that it has been a long time since the Eagles completed a fade pattern:
Or maybe he wasn't joking.
The Eagles will not be heading into the 2013 season with a great QB, so they would be wise to give whoever that QB might be a large target, so he can occasionally throw some "go up and get it big fella" passes to take the pressure off.
DeSean Jackson and Jeremy Maclin are both good receivers, individually.  Maclin has one year left on his deal, he is still only 24, and widely viewed as a good guy.  The Eagles might be wise to see what kind of trade compensation they can get in return for him this offseason.  But as a tandem, it's not working.  A big, physical WR should be a high priority this offseason.
Be sure to follow Blogging the bEast on Twitter and like Blogging the bEast on Facebook.