If you have yard work to do today, you can also listen to Tommy Lawlor and I break down this game on our latest podcast.
• We all know how good Calvin Johnson is by now.  His numbers last year: 96 catches for 1681 yards and 16 TDs.  This year, his numbers are pretty much on pace with what he did last year, minus the TDs.  Through 4 games: 29 for 423 and 1.  But those stats don't even tell the whole story.  There was a play early on against the Vikings in which Matthew Stafford got a defender to jump offsides.  Knowing he had a free play, he launched the ball down the field into double coverage to Johnson.  Johnson fought to get to the ball, and a DB got in his way.  Pass interference.  A 5 yard offsides call became a 56 yard pass interference call, simply because Calvin Johnson is Calvin Johnson.  Also, this is the definition of respect: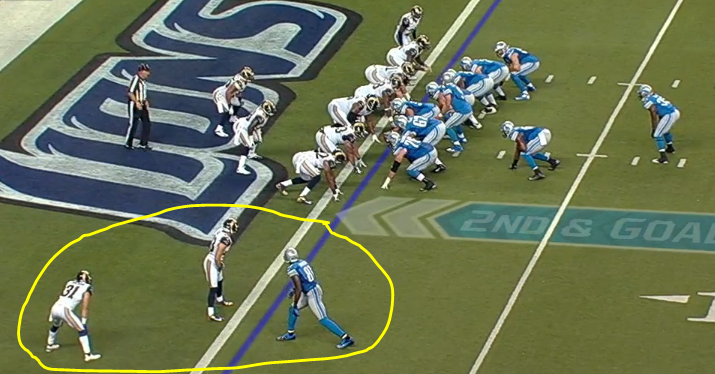 If I'm Juan Castillo, Dominique Rodgers-Cromartie is covering Calvin Johnson all day, and I'm giving him additional help whenever I can.
• The Lions are going through some of the same things the Eagles went through when teams started taking away the deep stuff.  Michael Vick was connecting on passes down the field at an unsustainable pace early on in 2010, and defenses (like the Bears, for example) began to adjust by parking their safeties 20 yards off the line of scrimmage.  In 2011, the Lions had 65 pass plays of over 20 yards.  That was 7th in the league.  They had 16 pass plays of over 40 yards.  That was 2nd.  As a result, teams are parking their safeties well off the line and making the Lions sustain long drives, which they have not been able to do consistently.  Here are the Vikings parking their safeties 10 yards beyond the sticks on a 3rd and 6:
At the snap on this play, their first move was back.  It's almost as if teams are content to give up the easy first down rather than risk the deep killer, and so far, it's working.
• I was pretty unimpressed with Lions RB Mikel Leshoure.  He didn't look like he had much speed, his cuts were slow, and didn't seem like much of a banger.  In his defense, he has had 8 catches in his first two games (after returning from suspension), so he may be a threat in the passing game.  Against the Vikings, he had 13 rushes for 26 yards, with a long of 14.  On the 14 yard run, he had an enormous hole that he took advantage of and took a big hit from Jamarca Sanford.  Sanford got his shoulder on the ball an popped it out.  The problem with that fumble was that Leshoure saw it coming.  No excuse for that.
• The Lions have the oldest offensive line in the NFL.  More importantly, they also have age throughout their entire line.  All 5 of their OL starters are among the older half of the league's projected starters.  Before the season, I noted that the the Lions had the 8th, 12th, 32nd, 64th, and 77th oldest projected starting offensive linemen in the league (out of 160).  Now, being old isn't necessarily bad… as long as you can stay healthy, and as long as you don't wear down toward the end of the season.  Otherwise, you better have depth.  Remarkably, this aging unit stayed healthy last year, as all five of their starters (Backus, Sims, Raiola, Peterman, Cherilus) all logged over 1000 snaps.  The Lions depth consists of rookie first round draft pick Riley Reiff, and then it's the following group:
Dylan Gandy – Waived 4 times in career.
Corey Hilliard – Waived 4 times in career.
Jason Fox – 2010 4th round pick. Broke his foot in training camp, didn't play any snaps, stuck on the roster until November, before he was eventually placed on IR.
I will say this for the Lions – They do have continuity, and they've actually played pretty well so far.  They are one of the few teams returning all 5 offensive line starters from 2011 at the same positions.  So far so good for the health of their old guys as well in 2012.  All 5 OL starters have played all 309 of their offensive snaps so far this season.
In the Vikings game, rookie OT Riley Reiff saw 5 snaps as an extra blocker.  I found 4 of them in the game.  Couldn't find the 5th.  On the 4 I found, Reiff was always in the game on 1st down.  There was a mix of play calling when Reiff came in.  I would suspect he'll see more action against the Eagles to protect against their DL, like so many other teams have done this season.
• Like the Eagles, the Lions run the Wide 9.  In my opinion, this should benefit both offenses, who are used to seeing it.
• To be determined who will start at CB opposite Chris Houston.  It will either be rookie Bill Bentley or Jacob Lacey.  Bentley was a player that I liked in the Senior Bowl practices, but not so much that I'd want him starting Week 6 against the Eagles.  Whether it's Lacey or Bentley, either player will have a gigantic bulls eye on them.  The Lions have no interceptions this season and just 2 more PBUs (11) than Texans DE JJ Watt has batted passes.  In other words, their back end lacks ball skills.  Expect a 2-1 pass-run ratio this week from Marty and Andy.
• In my hierarchy/obituary post, I joked about the Lions atrocious special teams.  They have given up 4 returns for a TD this year, noted here:
Meanwhile, the Eagles haven't returned a kickoff more than 35 yards since 2010.  Something has to give.
• The Eagles come into this game very healthy.  The Lions have a few guys that a banged up.  Corey Williams is one of the their starting DTs.  Good player.  He's out.  Louis Delmas will likely play in his first game this season, and Cliff Avril injured his back in the 4th quarter last week, but he should be a go.
Be sure to follow Blogging the bEast on Twitter and like Blogging the bEast on Facebook.