Prior draft recaps: Eagles
Robert Griffin III, QB, Baylor, First Round, 2nd overall
Brad Johnson, Jeff George, Tony Banks, Shane Matthews, Danny Wuerffel, Patrick Ramsey, Tim Hasselbeck, Mark Brunell, Jason Campbell, Donovan McNabb, Rex Grossman, and John Beck.  Those are the guys the Redskins have gone to battle with at QB in the Dan Snyder era.  In the NFL, unless you have some sort of historic defense (see the 2000 Ravens or the 2003 Buccaneers), you don't have a chance if you don't have a top-tier QB.  Those Redskins teams of the past decade+ had no chance.  This Redskins team, perhaps 2 or 3 years down the road, now does.  And so begins the Robert Griffin III honeymoon period, a time for Skins fans to enjoy the plays he'll make, and roll with the inevitable growing pains he'll face in his rookie season.  The Skins paid an enormous price to get their guy.  They HAD TO.
Anyway, we've known for months now that RG3 would be a Redskin, so let's move on to the other guys…
Josh LeRibeus, OG, SMU, Third Round, 71st overall
Adam Gettis, OG, Iowa, Fifth Round, 141st overall
Tom Compton, OT, South Dakota, Sixth Round, 193rd overall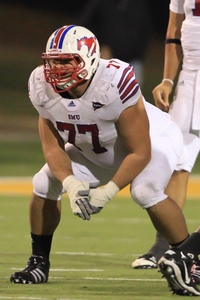 I've been poking fun at LeRibeus since the Skins drafted him, for reasons other than his actual play on the field.  Turns out his girlfriend or wife or whoever that is in his Twitter profile pic is pretty cute, so hey, good for him, ha.
I don't know a thing about LeRibeus' play, and won't pretend to.  I haven't exactly watched a lot of SMU tape, but the phrase that kept coming up was that "he plays with a mean streak."  I also don't know a ton about Gettis or Compton either, so let's just lump them all together, since it appears Mike Shanahan had a theme when the Skins drafted all 3 of them:
G/C Josh LaRiebus (sic): "He has pretty good size. He does have quickness. He can play center or guard. He's extremely bright. We're very happy to get him."

G/C Adam Gettis: "He has the quickness we look for, kind of like Kory. He can play center or guard. He has speed. You never have enough depth on that offensive line. That's why it was big for us to get three offensive linemen. We're not sure when they would go. All three of the guys we got we targeted. We're very happy with the depth on the line."

OT Tom Compton: "He has great speed and quickness. That's what we look for in our tackles. He did a great job in our agility drills as well as the 40-yard dash and he has the flexibility to play both sides."
Obviously, two things were very important to Mike Shanahan: Position flexibility, and quickness.  Last season, Chris Chester and Will Montgomery played every snap, but here's how many snaps their other starters missed:
Jammal Brown – 385
Trent Williams – 463
Kory Lichtensteiger – 812
Their replacements were Maurice Hurt, Sean Locklear, Tyler Polumbus, Willie Smith, and Erik Cook.  None of them played well, so it's understandable why Shanny would use three picks on his OL.
Tony Pauline of SI called LeRibeus a reach:
Josh LeRibus/G/Washington/Pick No. 71 —LeRibus turned in a solid campaign last year after sitting on the sidelines in 2010. He's a bit one-dimensional and passing up Brandon Brooks in favor of LeRibus could haunt the Redskins.
I'm not sure how I feel about the LeRibeus pick.  When the Skins were on the clock at 71, I thought there were three really good CB prospects that were still on the board: Jamell Fleming of Oklahoma, Dwight Bentley of Louisiana Lafayette, and Jayron Hosley of Virginia Tech.  The catch is that in the NFL draft, once you get into round 3 and beyond, it's like the Wild West.  It's totally unpredictable, and if you try to wait until a later round to draft a guy that might slip, there's a good chance some other team might snap him up.  The Skins got the guy they wanted, and reportedly, the Chiefs would have taken LeRibeus three spots later in the Skins hadn't.  TBD how good he is.
Kirk Cousins, QB, Michigan St., Fourth Round, 102nd overall
After the Skins selected Cousins, the ESPN super-panel of Herm Edwards, Ron Jaworski, Tedy Bruschi, and Suzy Kolber were all flabbergasted by the QB controversy the Skins had just willingly created:
That's some of the dumbest analysis I've ever seen.  A more reasonable gripe is that the Redskins "wasted a pick" on a backup QB when they could have gotten a player to contribute immediately.  I disagree.  Here's what I wrote after the Skins made this pick:
Redskins select Kirk Cousins, QB, Michigan St: The Redskins are going to get absolutely slammed for this pick by a lot of people, but here's what you have to keep in mind about Day 3 of the NFL Draft.  You are not filling holes at this point, or at least you shouldn't be. You're drafting players with the long view in mind.  Next year, Rex Grossman will be gone, and John Beck will probably be gone this year.  The Redskins can now groom two rookie QB's… simultaneously… and be set at that position for at least the next 4 years.  Cousins can push RG3 (not that there's any threat to take his job), and vice versa.  Cousins is outstanding value at this stage in the draft.  The big knock on Cousins is his arm strength, but I saw a live arm at the Senior Bowl.  On on play that stands out in my head, Cousins launched a ball 50 yards, into the wind, to a streaking Marvin McNutt down the sideline.  McNutt dropped it, but the ball was on the money.  Impressive throw.

But here's the part that, if I were a Redskins fan, would be most encouraging about this pick.  Mike Shanahan is in Year 3 of the Shanaplan.  So far, the Redskins are 11-21 in his tenure.  It's only natural to wonder if they would be drafting with the selfish intent of finding players that might contribute more immediately, as opposed to taking a player that makes the most sense in the long view.  This pick shows that the Redskins very much have the eye on the long-term prize.  I love this pick.
It's that last paragraph, in my opinion, that is most important.  Loved the pick then. Still love it now.
Keenan Robinson, LB, Texas, Fourth Round, 119th overall
Here's what I wrote after they made this pick:
Redskins select Keenan Robinson, LB, Texas: Another nice pick for the Skins, at an area of need.  I would project him at ILB in the Skins' 3-4 look.  London Fletcher turns 37 in May, and the Skins have virtually no depth behind him and 3rd year pro Perry Riley.  The Redskins got a long look at Robinson at the Senior Bowl.  He was a player on the South Team, which was coached by the Redskins' staff.  Athletic kid, was highly recruited out of high school, and was somewhat of a disappointment in college.  Decent value in the 4th.
I think I like the pick even more now that I've had a little more time to digest it.  Here's what Tommy Lawlor of Scouts Notebook had to say (and pay close attention here):
3-year starter at OLB. Big time "What If?" player. Has a good frame. Has good athletic ability. Has good football skills. Never put that all together, but what if he did? You wonder how good he could be. Watch the OU game from 2010. Robinson had 19 total tackles (9 solo). He had 1.5 TFLs. He played the run well. He was physical and played with attitude. He showed good range and was all over the field that day. Seems like a player that must be motivated to be at his best. Has big time potential, but needs coaches/teammates to push the right buttons.

At his best, Robinson is an ideal SAM. He is big/strong enough to fight off blocks. He's agile enough to move well in traffic and get to the ball. He has the speed to make plays in the open field. Has some pop when he hits. His tackling can be sloppy.

Played like an ILB at Texas.  Finished his career with 5 sacks, 2 INTs, 276 total tackles, 21 TFLs, and 3 FFs. Went to the Senior Bowl and played SAM.  Looked good to very good.  Was that a tease or is he ready to finally live up to his potential?  Should go in the 4th round.
There's no better influence for Robinson to learn under than London Fletcher.  Here's the game Tommy is talking about, by the way:
Alfred Morris, RB, FAU, Sixth Round, 173rd overall
In Morris' last 5 games at Florida Atlantic, Morris ran for 725 yards and 7 TD's on 118 carries (6.14 per carry).  Florida Atlantic was outscored in those games 190-84.  Despite playing from behind in most of those games, the Florida Atlantic passing attack contributed just 826 yards.  In other words, Morris basically WAS their entire offense.
I think an interesting camp battle will be between Morris and UDFA Lennon Creer.  Creer was a late addition to the Senior Bowl roster (the South Team that Shanny coached), and I liked what I saw of him in practices.  Obviously, the Skins staff did as well, since they're bringing him in for a tryout.
Richard Crawford, CB, SMU, Seventh Round, 213th overall
Jordan Bernstine, CB, Iowa, Seventh Round 217th overall
Here's what I tweeted about Bernstine:
And here's what Shanny had to say about him:
CB Richard Crawford and Jordan Bernstine:  "Bernstine is a safety. Crawford has the possibility to play inside in a nickel and is also a punt returner. He has some value."
I'll take my Pulitzer now, please.  Anyway, this late in the draft, it's just throwing darts.
Positions that could be addressed, and did the Redskins address them:
For this section, we'll look back to what I wrote about each team in the mega-preview from last Thursday, and see if each team addressed each spot.
Preview: Quarterback: There's a guy from Baylor that everyone seems to like. Maybe the Redskins will draft him.
Addressed? Yep, they got him.
Preview: OL (almost across the board): I felt that Trent Williams improved quite a bit from Year 1 to Year 2, and can still be a really good LT in the NFL.  He's only 23 years old, although an immature 23.  There isn't much of a need at LT, in my opinion, at least for now.  The other Skins' offensive lineman that I like as a player is Kory Lichtensteiger.  Unfortunately, he tore both his ACL and MCL in a loss to the Eagles in Week 6 last season.  Otherwise, Will Montgomery is "just a guy," as is Chris Chester (although a highly paid one), and Jammal Brown is somehow still currently the projected RT in D.C.  The Skins could use help almost across the board here.
Addressed? I thought they desperately needed a replacement at starter for Jammal Brown at RT, but that should have been addressed in free agency, since obviously, the Skins didn't have a pick (other than RG3) until the 3rd round.  They did address the OL as a whole though, as they drafted three players.  Good job here.
Preview: Secondary (across the board): I've been killing the Skins' secondary for the last few weeks.  No need to pile on any further.
Addressed? Kinda sorta. They drafted two players for their secondary, but we're talking about 7th rounders here. The player that I'm interested in seeing play is UDFA Chase Minnifield, who, a year ago, was on 21st on Mel Kiper's big board.
Preview: Inside linebacker: The Skins were able to re-sign London Fletcher.  He'll pair with Perry Riley.  That's a nice combo, in my opinion.  However, they have nothing in the way of depth here.
Addressed? Resounding yes. Love the idea of Robinson learning under Fletcher for a season or two before taking over at ILB.  It's also my understanding that they signed Jonathan Goff today.
So… in some form or another, the Redskins addressed the 4 major needs I outlined for them.  Now, as I noted in my Eagles recap, simply filling holes isn't necessarily good if you're reaching, but I think this was a very solid overall draft for the Skins, with obviously the key component being the player they hope can be the face of the franchise for the next 12 years.
Up next: Dun dun dun… The Cowboys!