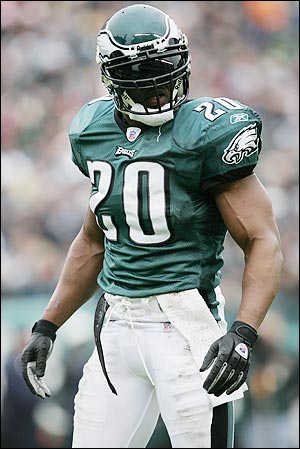 Brian Dawkins retired yesterday.  A lot of time has passed since he hit the open market and signed with the Denver Broncos in free agency.  I liken the situation to the "Kübler-Ross model," commonly known as "The Five Stages of Grief":
Denial: I remember when the first reports surfaced that Brian Dawkins was on an airplane on the way to Denver.  My immediate reaction was "Pfft, no way in hell."  Even after the first reports came out that he had actually signed with the Broncos, I still kind of didn't believe them.  But obviously, the news was all too real.
Anger: After Dawkins bolted town, the Eagles faced probably the worst barrage of negative feedback the organization has ever seen.  The poster child of the bad feelings afterward was stadium employee Dan Leone, who was fired by the team after he posted his thoughts of the Eagles on facebook. His infamous post: "Dan is (expletive)-ing devastated about Dawkins signing with Denver … Dam Eagles R Retarted!!"
Bargaining: Eventually, many fans will begin to look to negotiate a compromise within their own heads after their organization has messed up.  In this case, these fans began to talk themselves into the thinking that 2nd year player Quintin Demps had shown promise as a rookie, and was a true up and comer in the organization. After all, Dawkins couldn't cover as well as he used to, and the dropoff from Dawkins to Demps would be marginal.
Depression: I think this set in when Demps was beaten out, or rather, wasn't even good enough to hold off rookie Macho Harris from taking his starting job.  Macho Harris, after all, was a 5th round pick that hadn't played safety in his entire organized football life, but he was going to start Week 1 at FS at the highest level in the sport… for a team that had just played in the NFC Championship Game the previous season.
Acceptance: Dawkins had a good year his first year as a Bronco.  In a slightly different role in Denver, Dawkins had career highs in tackles, fumble recoveries, and had his 2nd highest total of TFL's. He became an immediate fan favorite in Denver, just like he had in Philly.  But with time, all wounds heal, and even though the Eagles haven't yet come close to putting a player on the back end that has even remotely matched Dawkins' physicality, I think that most people have made peace with the fact that he's gone.
I, however, have not made peace yet with Dawkins' departure, and to this day remain squarely on Step 4.
Revisionist history on Brian Dawkins will say that there were two very good reasons justifying his departure:
Due to old age, Brian Dawkins was in significant decline.
The Broncos severely overpaid Brian Dawkins, and the Eagles were right not to pay him similar money.
I couldn't possibly disagree more with either assertion.
At the time, Brian Dawkins was 35 years old, no doubt a scary number to a team that so heavily utilized a smart, actuarial approach in regard to players' age and the likelihood of their eventual decline in play.  At the time, the team was batting 1.000 in that department.  They were right in letting previous fan favorites walk, like Troy Vincent, Duce Staley, Hugh Douglas, Bobby Taylor, and others.
However, Dawkins was a different case, in that unlike the above names, he was still playing at a very high level.  The previous season (2008), including the playoffs, Dawkins had forced 7 fumbles.  He was the Defensive Player of the Month in December that season.  He went to the Pro Bowl, and not just on one of those "Lifetime Achievement" Pro Bowl nods.  While it was true to a degree that his ability in coverage was waning, the simple fact was that he was still making plays… enormous ones… all over the field.  The following is a quick look at 5 of his forced fumbles that last season in Philly.  This isn't some "Weapon X" montage full of Dawkins suplexing various Redskins.  They're all from the 2008 season, his last in Philly.  Note the athleticism.  If you didn't know any better, would you ever guess this player was 35 years old?
But… what about the money?
Again, revisionist history will say the Broncos gave him an absurd amount of money, but that simply wasn't the case.  The first reports that came out said that he received a 5 year deal worth $27 million, to which people immediately did a a collective "Whaaaaaat? 5 years? $27 mil?  For a 35 year old?"  It was later revealed that it was more like a 5 year deal worth $17 million with an extra $10 million in incentives.  And then even later still, we found out it was voidable after 2 years, with the realistic contract being nothing more than a 2 year deal worth $9 million, and a reasonable $7.2 million guaranteed.
What people forget is that at the time Dawkins left, the Eagles were more than $40 million under the cap.
But wait… 2 years, $9 million might sound like a reasonable figure in 2012, but wasn't the salary cap in 2009 a lot lower back then?
Nope.  The salary cap was higher in 2009 than it is in 2012, and the owners knew full well that 2010 (which would have been Dawkins' 2nd year of the deal) would be an uncapped season, as they had planned for years to opt out of the CBA.
Compare that with the 2 year, $10.75 million ($6.75 guaranteed) contract the Redskins just handed London Fletcher, which received a unanimous golf clap around the NFL. Fletcher turns 37 in May.  Dawkins, just to note, has more than double the forced fumbles over his career that Fletcher has.
At this point, I'd like for you all to note that I'm about 1000 words in, and I haven't even mentioned the words "leadership" or "intangibles."  Thanks.
In fairness to the Eagles, when you look back at their complete 2009 offseason as a whole, it was amazingly productive.  A quick list of some players they brought in that year:
Traded for Jason Peters, arguably the best LT in the league in 2011.
Signed Michael Vick, who was #2 in NFL MVP voting in 2010.
Signed Leonard Weaver, an excellent role player and Pro Bowler before his leg bent the wrong way and his career ended.
Drafted LeSean McCoy, arguably one of the top 3 RB's in the game.
Drafted Jeremy Maclin, who has 189 catches for 2596 yards and 19 TD's in his first 3 years as a pro.
I haven't looked to see if some other team out there can match that, but I think you would be hard-pressed to find a significant number of teams in the past decade that had a haul like that.
And yet, it was that one player that they let slip away that still irritates me to this day.