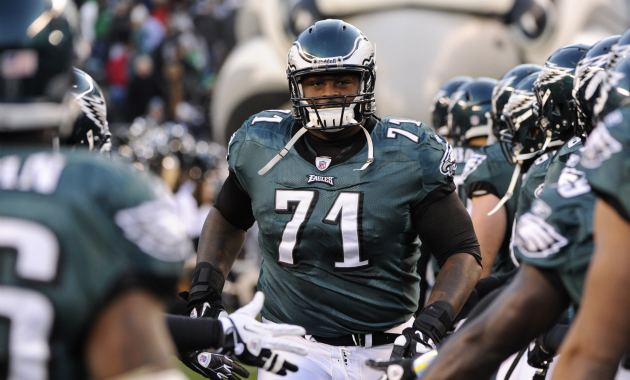 – It's further confirmation that God hates me, and all Eagles fans everywhere.
– Todd Herremans is one of the more underrated players in the NFL.  Last year, he had to fill in LT for Peters against the Redskins and he completely shut down Brian Orakpo, although it's 100% unrealistic to expect that same level of play over a 16-game schedule.  I have full confidence that he can move over from RT to LT, face the best pass rushers in game, and play well.  But "playing well" is a lot different than being truly elite, which is what Jason Peters is.  Peters was probably the best LT in the NFL last year, and the transition from Peters to Herremans is most definitely a significant downgrade.  But it doesn't end there.  The Eagles signed King Dunlap this morning, and while he's a really nice reserve swing tackle, the downgrade from Herremans to Dunlap is also very significant.  The Eagles could certainly go in another direction at RT, whether that be through the draft or the remaining junk in free agency, but either way, this injury weakens two positions, not one.
– Danny Watkins played OT in college, and Evan Mathis worked out a bit at RT in camp last year, but those aren't viable options.  If you slide Herremans over from RT to LT, kick one of your guards out to RT, and fill in that hole at guard from the outside, now you're weakening three positions, and just pissing away any and all continuity.
– There's some debate as to which side of the line is more important to protect with Michael Vick, a lefty, as the QB.  For me, it's a no-brainer.  It's the left side.  Here's a sampling of the pass rushers the Eagles' LT will face this year:
DeMarcus Ware twice: 66 sacks and 15 FF the last 4 seasons.
Jason Pierre-Paul and Osi Umenyiora twice: JPP was, in my opinion, the best defensive player in the NFCE last year. Umenyiora is a strip sack master, with 12 of them the last 2 years.
Brian Orakpo twice: 28.5 sacks in his first 3 seasons as a pro.
John Abraham: 22.5 sacks the last 2 seasons.
Terrell Suggs: 25 sacks, 9 FF last 2 seasons.
Carlos Dunlap: 14 sacks in his first 2 seasons as a pro.
Will Smith: Beginning to slow down. 12 sacks the last two seasons.
James Harrison -2008 Defensive Player of the Year. 9 sacks, 2 FF in a down year in 2011.
Kyle Vanden Bosch: Jim Washburn's all time favorite defensive lineman. 8 sacks, 4 FF last year.
Adrian Clayborn: 7.5 sacks and 3 FF as a rookie
Sam Acho: 7 sacks, 4 FF as a rookie.
– I've seen Kareem McKenzie's name kicked around a little already.  Nope.  Not happening.  McKenzie was awful last season.  He's done.  King Dunlap is better at this point.
– Demetrius Bell remains on the market, but there's a reason for that, and it's probably not good.  Some people are suggesting he wants to be paid like a starting LT, others are saying that he's inconsistent and has knee issues.  Maybe it's a combo of all of that.
– The Eagles aren't yet ruling Peters out for the entire 2012 season, but the general consensus is that it's a "9 month injury."  That would put us into late December.  If Peters can indeed return by December, he'll still be nowhere near the player he was last season.  Plus, Peters looked very out of shape to me the first few days of training camp last year, although he got himself in decent enough condition by the time the season began.  If he can indeed return during the season, the lack of training camp could be a rare case where it really effects an established vet like Peters.
– The proposed new IR rule just became of heightened importance to the Eagles.  That will likely be voted on in April, per a Rich McKay interview I recall seeing on NFL Network.
– All in all, just a devastating injury to the Eagles.  There's no replacing this: