A timeline: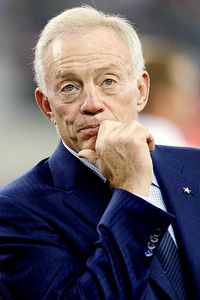 2008-2009
With an aging OL in place, the Cowboys had a total of 18 draft picks in 2008 and 2009. With those 18 picks, they selected one offensive lineman, Robert Brewster. Brewster is no longer with the team.
2010
In 2010, the Cowboys drafted one offensive lineman, Sam Young, in the 6th round. Young, like Brewster, is no longer with the team. They headed into the 2010 season with the oldest offensive line in the NFL. Leonard Davis celebrated his 32nd birthday just before the start of the season, with Marc Colombo and Kyle Kosier celebrating their 32nd birthdays shortly thereafter. Andre Gurode was 31. The one player that was still relatively young was the 26 year old Doug Free, who was taking over at LT for the departed Flozell Adams, who was 35.
The Cowboys were the overwhelming favorites to win the NFC East that season, but in what should have been a fairly predictable outcome, the offensive line went into a sharp decline and the the offense sputtered. It didn't help that the defense was surprisingly bad. They finished that season 6-10.
2011
The following offseason, Jerry Jones made the obvious decision to cut bait with Colombo, Davis and Gurode, three players that were playing poorly and making far too much money. The Cowboys were, in a way, forced into "going young" along their OL. For the first time in 20+ years as the Cowboys' GM, Jones spent a first round pick on an offensive lineman, scoring the extremely talented Tyron Smith out of USC. They would take a couple more offensive linemen in the 4th and 7th rounds, grabbing David Arkin and Bill Nagy, respectively. They also locked up Free to a long term deal, paying him $32 million over 4 years. It appeared that after years of ignoring the OL, it was finally becoming a priority, albeit way too late.
To begin the season, the Cowboys started two rookies: Nagy at LG, and Tyron Smith at RT. They also plugged in 2nd year player Phil Costa at center. Kosier was moved from LG over to the right side to be sort of an "offensive tackle whisperer" for Smith. In one offseason, they went from the oldest offensive line in the league to one of the youngest.
With so many new and unproven players inserted into the lineup, the Cowboys' offensive line once again sputtered all season, this time even more predictably than in 2010. Smith had a great rookie year, but the two other new pieces, Costa and Nagy, both had brutal seasons. Costa's poor play lasted 16 games, while Nagy's bad season was cut short in Week 6, when he was lost for the season with a broken ankle. Kosier's decline and health issues continued. Free, meanwhile, was a major disappointment, having a surprisingly bad season. The Cowboys were learning that turning over a full offensive line in a short amount of time isn't exactly easy. They hit with one player, missed with two, and were heading into the 2012 once again needing to scramble to find answers.
Continued after the jump…
2012
We're one week into free agency so far, and really, the only word I can use to describe the Cowboys' plan of attack for the OL is "puzzling." First, they signed OG Mackenzy Bernadeau, a player that had a couple bad seasons in 2009 and 2010 in Carolina, who then lost his job in 2011. The cost? 4 years, $11 million. Bernadeau's agent said the Cowboys brought him in to be a starting guard, and while agents tend to say positive things about their clients, the size of the contract would indicate that he's not just full of hot air. The Cowboys then went out and signed 30 year old Nate Livings, a player that Bengals fans by and large were more than happy to see leave. The cost for Livings: 5 years, $19 million. With Livings and Bernadeau in place, the team felt comfortable cutting Kosier. On the outside, the plan is to flip-flop Smith and Free, with Smith moving from RT to LT, and vice versa. For now, Costa is penciled in at center, although that could (and should) change sometime between now and the start of the season, be it through the draft or other means.
So what does all of this mean? It means an almost complete lack of continuity along the Cowboys OL:
| Cowboys | 2010 | 2011 | 2012 |
| --- | --- | --- | --- |
| LT | Doug Free | Doug Free | Tyron Smith |
| LG | Kyle Kosier | Bill Nagy | Nate Livings |
| C | Andre Gurode | Phil Costa | Phil Costa? |
| RG | Leonard Davis | Kyle Kosier | Mackenzy Bernadeau |
| RT | Marc Colombo | Tyron Smith | Doug Free |
It's difficult to figure out exactly was the plan is here.