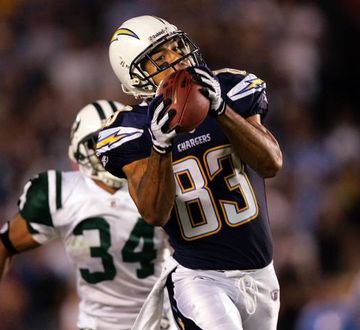 Report: Redskins will go all out for Vincent Jackson – Rich Tandler, Real Redskins
Vincent Jackson of the Chargers is the best free agent wide receiver on the market this year. The Chargers would like to sign him back but they are not confident that they will be able to do so. It appears that one particularly aggressive suitor might keep them from doing so, according to Kevin Acee, the Chargers beat writer for the San Diego Union-Tribune.

"The Chargers' seeming resignation that Jackson will go somewhere else could be due in part to their having long been aware of a team – thought to be the Redskins – that will do almost whatever it takes to get Jackson," Acee wrote.

That "almost anything" includes a check with a lot of zeroes on it. The Redskins' offer could top $12 million, a number "which has been floated by knowledgeable people", according to Acee.
VJax would be the offensive threat that opposing defensive coordinators would worry about.  Pair him with the very underrated Fred Davis and the other nice role players the Skins have at wide receiver, and you give the rookie a pretty formidable group of weapons.  Not sure I'd pay $12 million though.
Audio: Greatest Redskin fan response to RG3 nws ever – Kevin Ewoldt, Hogs Haven
He's kinda fired up.
Redskins should make a move for another offseason crown – Rick Snyder, Washington Examiner
The Redskins desperately need this free agent group to revive a franchise that is seriously losing its fan base. The Nationals could become the town's best team this season if they are able to make a run at a playoff berth.
Phillies >>>>>>>>>>> Nats.  Just a friendly reminder the Phils still have Halladay, Lee and Hamels.  That wouldn't rule out a wildcard for the Nats if they pull out a miracle season, I suppose, but the NL East is on lockdown.
Giants, Eagles, and Cowboys after the jump…
Don't expect big moves from Giants in free agency – Paul Schwartz, NY Post
It doesn't seem long ago that the lockout ended, the doors of free agency swung open and Reese didn't barge in, concentrating on bringing back a few of his own players while spending relatively big money for only one newcomer, center David Baas. Reese, highly criticized at the time for the dearth of headline-making activity, now has two Vince Lombardi Trophies in the case.
Reese didn't barge in because he couldn't barge in.  They didn't have cap space, the same way they don't have cap space this offseason.
Giants CB Terrell Thomas hopes for another shot after tearing ACL a second time – Ralph Vacchiano, NY Daily News
I've always liked Thomas' game, so it wouldn't surprise me to see some team out there with some room under the cap flash decent money at him on a short 1 or 2 year deal that the Giants can't match.  But obviously, he comes with serious risks.
Birds' likely free agent targets – Les Bowen, philly.com
Les doesn't see the Eagles doing any real shopping this offseason, with the exception at linebacker.  I think I agree.
QBs and the Eagles – Tommy Lawlor, IgglesBlitz
Tommy talks about the Eagles' and their varying likely interests/disinterests in Ryan Tannehill, Kevin Kolb, and Tim Tebow.
LB coach Matt Eberflus breaks down Anthony Spencer's film – Cowboys Mothership
Really reaching here.  On Spencer's strip sack of Rex Grossman that sealed the game, Eberflus tries to make the point that Spencer had a great pass rush on the play, when really, he ran himself way up the field and didn't cause any sort of pocket disruption whatsoever.  It's DeMarcus Ware that forces Grossman out of the pocket, and because of Grossman's poor pocket awareness, he runs himself right into Spencer's path.