Giants place franchise tag on Steve Weatherford – Mike Garafolo, Star Ledger
All 4 of the NFCE teams used their tag this season.  Three of them were smart.
Manningham thanks Belichick for giving him room to make big catch in Super Bowl – Mike Garafolo, Start Ledger
Manningham surely saw it as a sign of disrespect Belichick would rather see the ball go his way. But frankly, it was a matter of picking one's poison when defending the Giants' trio of receivers this past season. Even Manningham realizes that.

"This year it seemed like everybody needed three or four good wide receivers on their team," he said. "I feel like any of us can make a play at any time. You need a lot of good receivers these days."
Belichick is a fun target to rail on, because he's a winner… and a cheater.  But anyone with half a brain would have taken away Nicks and Cruz first in that situation as well.
Giants Eli rips Saints for over Bounty-gate – Paul Schwartz, NY Post
First, can we please stop adding "-gate" after every scandal?  There's an awesome nickname for this whole fiasco out there.  Think of something original.
"Obviously it is a big deal, what's going on,'' Eli Manning said last night before the premiere of the official championship video, "Super Bowl XLVI Champions: New York Giants," at a theater in Times Square. "It's not good for football and can't be a part of football. I know [commissioner] Roger Goodell will do a good job figuring all this out and making sure this doesn't happen again.''
I'm not so sure that qualifies as "ripping the Saints," but whatever.  Buried at the end of this article is the much more interesting quote, from Hakeem Nicks:
This past season, the Saints hammered the Giants inside the Superdome and in the third quarter a vicious hit by safety Isa Abdul-Quddus sent Hakeem Nicks out of the game with a rib contusion. Abdul-Quddus was flagged for a 15-yard penalty for hitting a defenseless player. Nicks was able to return to the game, but, given what is now known about how the Saints conducted themselves on defense, that hit certainly can be viewed in a different light.

"It's just part of the game,'' Nicks said. "He got a good shot on me. It wasn't the last time I got hit that hard. I took one in the Super Bowl too. You can't be scared to get hit.''

Nicks, after reviewing the tape, noticed how Abdul-Quddus celebrated after the hit.

"I remember … I take notes,'' Nicks said. Did he think the hit was delivered with the intent to injure?

"The way he was celebrating you would probably think that regardless."
Here's that hit:
Eagles, Cowboys, and Redskins after the jump…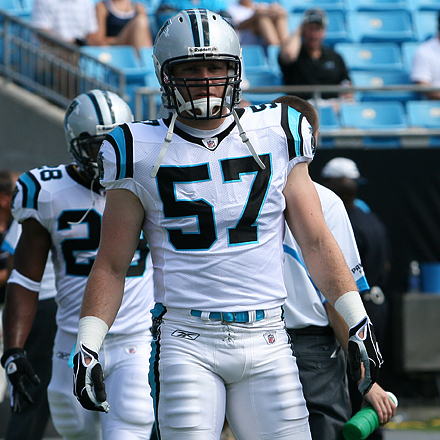 Carolina linebacker Connor a team target – Geoff Mosher, The News Journal
Several league sources confirmed the team's interest in the former Penn State All-American, who just finished his fourth season in Carolina, although the degree of interest remains unclear.

At least two sources close to the situation believe Connor, a native of the Delaware County suburb of Wallingford, Pa., is high on the Eagles' wish list. But one source with direct knowledge of the Eagles' offseason plans indicated that Connor isn't their top choice and suggested that it's less likely to happen, although he did acknowledge that Connor, 26, is someone the team has sought in the past.

All sources interviewed confirmed that the Eagles were interested enough in Connor last August to approach the Panthers about a trade, but Carolina's uncertainty regarding the health of Pro Bowl middle linebacker Jon Beason made the Panthers reluctant to pull the trigger.
Good work here by Geoff.
Will Foster, Johnson deals impact Eagles? – CSN Philly
Let's break down the contracts. We'll start first with Foster. He was an undrafted free agent in 2009 who made just $525,000 in 2011 after leading the NFL in rushing the season prior. Last year, he rushed for 1,224 yards, caught 53 passes for 617 additional yards and scored 12 total touchdowns. His new deal is now worth up $43.5 million over the next five years with $20.75 million guaranteed.

By comparison, McCoy was similarly underpaid when he accumulated 1,624 total yards last season and scored 20 touchdowns. Potentially putting even more money in McCoy's pocket by the time he gets paid, our own Reuben Frank wrote last week, "McCoy is the only player in NFL history with 3,000 rushing yards, 150 catches and a 4.8 rushing average in his first three seasons" (see story). Another point of comparison, the Carolina Panthers gave RB DeAngelo Williams $43 million over five years last season — a deal almost identical to Foster's. The question now is if McCoy is worth even more.
Eagles sign LB Monte Simmons – Jason Brewer, BGN
Championship!
Luke at SAM – Tommy Lawlor, IgglesBlitz
Tommy opines on the possibility of KEEK-LY as an outside backer in the wide 9.
Gosselin on whether or not it was a good idea to franchise tag Anthony Spencer:
"The Cowboys have a fear of the unknown. I don't think they have the confidence in their personnel department to go out and find a player that will upgrade a position. They love the status quo. They know what they've got with Anthony Spencer. They franchised him, extended (Orlando) Scandrick and extended (Gerald) Sensabaugh. They're okay because they know what these guys can do. If they leave, they have to find somebody better, and they don't have the confidence to do that so what they do is they keep the status quo, and the status quo is not good enough."
It appears we're on the same page.
Is Keith Brooking going to play for the Dallas Cowboys in 2012? – Tom Ryle, Blogging the Boys
Following the finish of the 2011 season, many experts believed Brooking had played his last down as a Cowboy. Sean Lee and Bruce Carter are the future of the middle linebacker position in Dallas, however, Brooking could serve as a reserve.

According to Brooking, the Cowboys have reached out to his agent.
Pleeeeaaase God, yes.
Garrett says Anthony Spencer is among the better outside linebackers in the 3-4 – Carlos Mendez, Cowboys corner
No, he's not.
I'd like reservations at this restaurant please – Jason Brewer, BGN
In free agency the Cowboys are cornered – Rafael Vela, Cowboys Nation
Consider the available draft alternatives.  Dallas won't get a shot at LSU's Morris Claiborne.  The next highest rated corners carry risk.  North Alabama's Janoris Jenkins can play, but he was kicked off Florida's team.  Jenkins has three drug arrests to explain way, and four children to support.  He's the kind of prospect Jerry Jones would have drafted without hesitation ten years ago.  He doesn't look like one Jason Garrett would select.  Dez Bryant has had trouble adjusting to professional life and he doesn't carry half the baggage Jenkins does.

Alabama's Dre Kirkpatrick also represents risk.  Some teams left his interviews unimpressed with his explanations about a drug charge that was later dismissed.  One claimed trust issues with Kirkpatrick.  The Cowboys may not be one of Kirkpatrick's critics, but Wes Bunting told me last week he still thinks Kirkpatrick may be gone before the Cowboys pick.

Should the Cowboys base all their cornerback plans on landing Kirkpatrick at 14?  If they fail, they could be starting a 2nd rounder corner.  Some good ones will be there, but is that any way to assure improvement in 2012?

I think there's a good chance one of Carr or Finnegan will be a Cowboy a week from tomorrow.
I'll reiterate what I said last week – It would be fun to have a heel like Finnegan in the division, although I think Carr is the better player.
Laurent Robinson: It's a business decision at the end of the day – dcfanaticsblog
Has Laurent been hanging out with Antrel Rolle?  Anyway, I found the poll here interesting.  It appears most Cowboys fans think Robinson is going to walk in free agency.
Vincent Jackson not given franchise tag by Chargers, opening door for Redskins to pursue – Mark Maske, Washington Post
60 for 1106 and 9 last season.
On the Redskins' hunt for a WR – Dan Graziano, ESPN NFCE Blog
When I spoke with Shanahan in December and asked him about offseason priorities, he specifically mentioned wide receiver and said, "We need a No. 1." With as much cap room as the Redskins have, they should be able to afford any of the No. 1 wide receivers available — be it Jackson, Marques Colston, Dwayne Bowe, Pierre Garcon or whomever. All of those guys are likely to demand more than what Johnson just got from Buffalo, and with the possible exception of Garcon their track records indicate that they deserve it. Johnson's deal establishes the bottom of the free-agent wideout market, and is surely helpful to the Redskins as they budget their potential offers.
Note: Dan published this before Bowe got tagged yesterday.
Mike Shanahan: "I think we were a playoff caliber offense this year" – Michael David Smith, PFT
Oof.