Wide Receiver – I can't sum up the DeSean Jackson situation any better than Sam from IgglesBlitz already has, and I won't try.
Quarterback – Vince Young won't be back.  Backup needed.  Here's what I said about Stephen McGee in my Cowboys offseason needs post:
Jon Kitna retired.  Backup needed.  To be determined if that's a 2 or a 3.  Stephen McGee is entering his 4th year in the NFL.  The Cowboys should know by now what he is.  If the Cowboys bring in a vet to back up Romo, that's not a strong endorsement for McGee.  If they draft a developmental QB, it'll be a strong indication they think McGee is an adequate backup.
Same logic applies to Mike Kafka.
Swing tackle – King Dunlap has been excellent the past couple of years in this role, but he's a free agent.  It'll be interesting to see if some other team out there thinks he can be a starter for them.  If so, he could be a goner.  Winton Justice is set to make $3.225 million this season, and the Eagles aren't going to keep him around at that cost to be a backup.  The Eagles recently signed D.J. Jones, but expect the Eagles to bring in some competition for him if Dunlap bolts.
Guard – Evan Mathis is a free agent, but it is expected that he'll re-sign with the team.  He was excellent in 2011.  If the Eagles somehow can't get a deal done with Mathis, they can either look to simply bring in a guard to replace him, or they can bring in a right tackle and move Todd Herremans from right tackle back to left guard.  It might not hurt to add some depth here anyway, even if they retain Mathis, as expected.
Defense after the jump…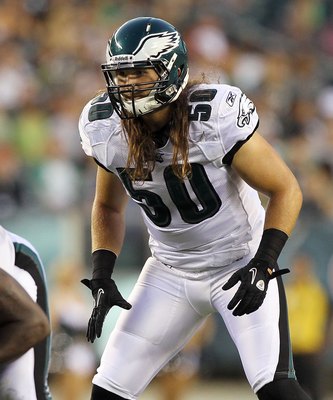 Linebacker (across the board) – In Week 14 of 2010, Stewart Bradley was lost for the season in the 2nd quarter.  In came Jamar Chaney.  In 2 and a half quarters, he had 7 tackles.  In the next 3 games to close out the season, he had 33 tackles (4 TFLs) and 2 forced fumbles.  It looked like the Eagles had their MLB of the future.  Hell, Brian Baldinger had him going to Canton:
Jamar Chaney is already one of the best MLBs in the league after his first start. He was phenomenal in every phase of the game on Sunday against the Giants, in terms of recognition, physicality, getting off blocks, stopping the run downhill and sideline-to-sideline speed. It's no knock on Stewart Bradley, but Chaney gives the Eagles their best play from the position in years. He was all over the field. When your MLB is fast and plays fast, it makes the entire defense look fast.
And then somewhere along the line, Chaney forgot how to tackle.
Meanwhile, Casey Matthews, despite the last name and great dinner conversations, wasn't good enough to start from Day 1 and was benched after just 3 games.
Really, the only LB that currently shows any promise as a legitimate starting NFL linebacker is Brian Rolle.
The Eagles linebacker situation in the Andy Reid era has been nothing short of comical.  The Eagles need to add at least 2 bona fide players at LB this offseason, be it through the draft, free agency, or a combo of the two.
Safety – I like Kurt Coleman.  Plays hard, smart kid, just a football player through and through.  Unfortunately, he's very limited athletically.  I like him more as a backup.  The wildcard here is Jaiquawn Jarrett, the Eagles' 2nd round draft pick in 2011.  Jarrett couldn't get onto the field for most of the season, and when he did, he struggled.  A full offseason should help, but Year 1 was not promising.  Nate Allen is firmly entrenched on the other side.
Defensive tackle – Cullen Jenkins is set to make $7.75 million this season.  He has a $5 million roster bonus coming his way on March 13th.  I personally feel it's a no-brainer to keep him, but there's certainly a possibility that the Eagles could cut him, which would open up a hole at the under tackle spot in the Eagles' wide 9.  Even if the Eagles keep Jenkins, they could be drafting here for depth.
Defensive end – Not a big need here, but it's worth noting that the Eagles were looking heavily at DE's at the Senior Bowl, and they love them some pass rushers.