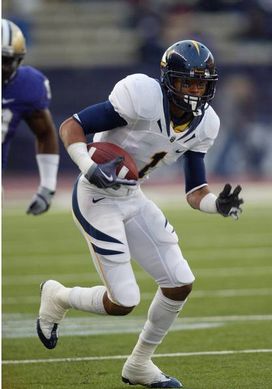 – Today's North Team practice was impressive, from a coaching standpoint.  There was almost too much going on at one time to be able to watch everything.  The Vikings staff did a really nice job keeping up the tempo and pace of practice.  It was much more crisp than yesterday's South practice led by the Redskins' staff.  In fairness, the South Team was practicing on a very wet surface at a high school stadium.  Plus, it was their first practice, so it'll be interesting to see if the Skins' staff runs a more efficient practice today or not.
– In pass blocking drills for RBs and TEs, Michael Egnew looked good.  A famed scout sitting next me remarked that Missouri TEs in recent years have been wussies, probably because they run the spread offense there, and aren't asked to do much in the way of in-line blocking.  Egnew looks like he may be an exception.
– Meanwhile RB Chris Polk struggled mightily in pass protection.  He's a big, tough kid at 5'10, 224, but looked overmatched.
WRs vs. DBs: 1 on 1's
– Yesterday, the South corners did a nice job on the South receivers.  This morning, the North receivers owned the North CBs.
– DeVier Posey juggles  pass on a 10-yard stop route, but Asa Jackson is so far off him, he can't make a play on the double-catch.
– Marvin McNutt gets held by Leonard Johnson, but still gets wide open on a 10 yard stop route.
– Marvin Jones smokes Alfonso Dennard down the sideline on a deep ball.  I read where a few people were questioning Dennard's ability to turn his hips and go, and it was very evident on this play.
* Quick note on Dennard.  He has tree trunks for legs.  Very powerful lower body.
– Gerell Robinson beats George Iloka on a deep post.  Got wide open.  Iloka is a big boy at safety at almost 6'4 and 222.  Very big frame.  He looks bigger than quite a few linebackers out here on both sides.  That is a bad drill for him, as he's not going to match up well 1-on-1 against wide receivers.
– A couple of little 5-yard quick hitters to Posey and Jones.
– McNutt runs a quick slant against Dennard and gets again again, then runs right past him.
– Asa Jackson is now playing way off the line of scrimmage. Gives up an extremely easy 10 yard stop.
– Robinson beats Iloka once again on a 10 yard out.
– Brian Quick slips coming out of a 10 yard hitch. Donnie Fletcher in coverage. Probably should have had a pick, but couldn't get a good enough break on the ball to pick it off.
– Asa Jackson gets beat again, this time by McNutt.  McNutt is having a nice day so far.  He'll have a couple drops later, but it seems like he has no trouble getting open against these North Team corners.  Jackson, meanwhile, is struggling.
– There we go, Alfonso.  Dennard makes a nice play on a deep ball.
– Fletcher on Robinson this tim.  Robinson gets open, but drops the pass.
– Another drop.  This time it's DeVier Posey.  Bad one, too.  Right in his hands, shoulder high.
– Jones beats Leonard Johnson on a quick slant.  Jones (that's Marvin Jones, again), is the standout among the receivers so far here today, at least in 1-on-1's.  McNutt is right there too.
– Speaking of McNutt, he gets open again on a post.  It's a bad throw by Russell Wilson, a little low and behind, but it's one that McNutt probably should have had anyway, but he can't bring it in.
I'll have more from the North Team practice later, when they ran 7 on 7's and 11 on 11's.  I'm a little crunched for time, as I have to get back out there for the South Team practice. Much, much more later today.
After practice, Phil Savage of the Eagles spent some time talking to Cam Johnson from Virginia.  Johnson is a 6'4, 267 DE from Virginia.  Juan Castillo was talking with former Eagles assistant and current Bengals WR coach James Urban.  They both talked with Marvin McNutt, although it was ore likely that Urban would be the one of interest there.  Looked more like casual conversation out of Juan.
The Redskins were talking quite a bit to OT Mike Adams of Ohio St.  The buzz on Adams here is that he's a sure fire 1st rounder.  If "the buzz" is correct, obviously he won't be there when the Redskins draft in the 2nd round, and it's probably a safe bet he won't go 6th overall.  But he could be a target that would make sense if the Skins trade out of 6 or if they trade p into the back end of the 1st round.
Apologies to the Giants and Cowboys fans.  Haven't seen your guys talking to anyone yet.  Actually, scratch that. No apologies at all the Giants fans.  Screw you guys.
One more interesting note: Went to lunch with Tommy Lawlor from IgglesBlitz after practice.  We were followed in by Juan Castillo and Sean McDermott, who dined together.