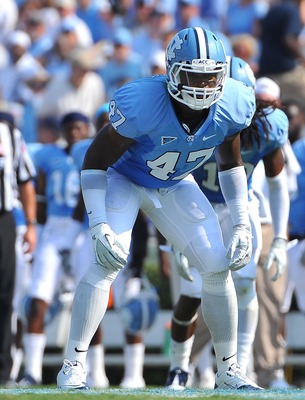 – Zach Brown is excelling in pass coverage in RB vs LB 1-on-1 drills.  The NFL has seen an influx of stellar tight ends that make plays.  Jimmy Graham in New Orleans.  Rob Gronkowski and Aaron Hernandez in New England.  Vernon Davis in San Francisco.  Jason Witten in Dallas.  And on and on.  Guys that can cover these elite tight ends are going to become more important players to defenses around the league.  Are linebackers going to stop these guys?  Safeties?  Could the Eagles be interested at 15?  Maybe Brown slips all the way down to the Giants at 31 or 32?  Intriguing player.  There's no tackling here at Senior Bowl practices, so I won't get to see any of that here.  And that's going to be the big question with Brown.  Will he be a liability in the run game?  Maybe, maybe not.  But the kid can cover.
– Dwight Bentley makes a really nice interception on a drop by Jeff Fuller.  Bentley was beaten on the play, but on the drop he stays with it and made a diving catch.  The Redskins spoke with Bentley after practice.
– I haven't talked a lot about him yet, but Melvin Ingram has played very well so far.  Solid tackle on one of the running backs.  Threw him to the ground emphatically.  Collected a round of head slaps from his defensive teammates.
– Play of the week so far: Juron Criner makes an absolutely gorgeous one handed grab.  "Oooohs and ahhhhs" from the scouts/media in the stands.  I'm hoping the NFL Network filmed it.  Looking forward to seeing that one on tape.  The Redskins spoke with Criner after practice as well.
– Markelle Martin with a nice undercut of a pass intended for Ladarius Green.  Nice breakup.
– Joe Adams with a leaping grab in heavy traffic.  Terrific play.  Gets a few more "ooohs and ahhhs" from the media.  Adams has become one of my favorite prospects here.  He may find his name coming off the board in the 2nd round.  Someone is going to fall in love with this kid.  I wonder if Joe Adams smells nice.  I bet he smells like heaven.
– Jeff Fuller makes a catch with Vandy's Casey Hayward draped all over him.  If he's going to make it in the NFL, Fuller may have to consistently outmuscle corners, because he simply isn't geting much separation.  Looks very slow.  I'll be shocked if he runs better than a 4.6 at the Combine.
– Weird decision by Lindley on 7 on 7's.  He tries to force a pass in to Fuller, who has 2 defenders draped all over him.  In 7 on 7's, there isn't exactly much to to understand in reading the defense, and yet he threw to the only guy that was (A) covered well, an (B) covered by two guys.  Not good.
– Brandon Weeden with a nice ball to the sidelines to Criner, who is actually covered very well by Janoris Jenkins.  Great zip on the ball.  Weeden is clearly the best QB down here, and it's not close.
– Nobody on the South team is blocking anyone, by the way.  The South's DL is completely overmatching the South OL.  Jaye Howard and Melvin Ingram combine on a sack.
– Keenan Robinson with a nice pop on Vick Ballard near the sidelines.
– A couple nice runs by Chris Rainey and Vick Ballard.  Rainey got about 15 on a LeSean-esque cutback, and then Ballard hit a hole, got the second level, and put it into an extra gear for a run to the house.  Very impressive burst by Ballard.
More tomorrow, once again…