Not to keep picking on Antrel Rolle, but I wanted to further touch on some of his comments from his radio appearance yesterday on WFAN, which was transcribed nicely by Ralph Vacchiano of the NY Daily News.
Before we begin, here's video of that play.
And now, Antrel Rolle's comments:
Whenever there's a big play and you're the safeties, you're always the one who gets blamed and gets finger-pointed.  It's wrong because the commentators don't know what coverage we're in. They don't know how we're playing our defense. They don't know that I'm disguising, showing a Cover 2, but I'm really supposed to drop down and play a Cover 3. They don't know. It drives me crazy.
Without having the benefit of knowing the exact play call, allow me to take a stab at what I see here.  But first, for those of you who don't know what Cover 3 is, here it is in its most basic form: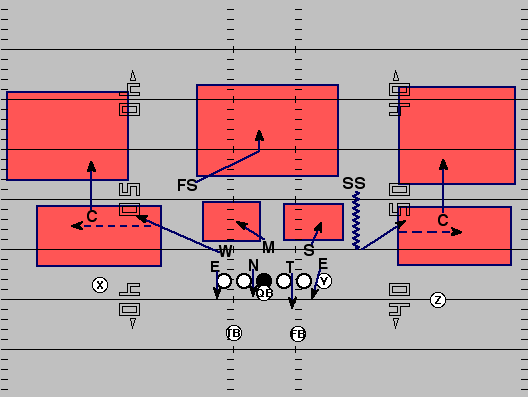 In its most basic form, the CB on each side will take deep 1/3 responsibility, with one of the safeties (in the above picture, the FS) covering the deep middle.  The other safety (in this case the SS) covers the flat.
In a Cover 2 look, again, in its most basic form, one safety will take deep 1/2 responsibility on one side, while the other safety takes the other side.
Now, go back to the play again.
If the Giants were in Cover 3 and Rolle didn't have deep Cover 2 responsibility as he is suggesting, then we should have seen the following:
– Deon Grant would have dropped into a center field position in the deep middle.  He did not.  Grant instead looks to be in a classic Cover 2.
– Corey Webster would have dropped into a deep 1/3 position at the snap.  He would not have been pressing Dez Bryant at the line of scrimmage, and he most definitely would not have passed Bryant off to the safety.
Perhaps Antrel Rolle was in the correct spot, as he is claiming.  It appears to me that either Rolle or both Webster and Grant didn't know what defense they were supposed to be in.  If Rolle was indeed was in the right spot, then there were two Giants that were not, which is actually more alarming.  We're heading into Week 15.  These kinds of coverage breakdowns simply cannot happen this late in the season, and Perry Fewell needs to clean it up.