Here's a back and forth between Jerry Seinfeld and George Costanza regarding their favorite explorers:
George: "Magellan? You like Magellan?"

Jerry: "Oh yeah, my favorite explorer. Around the world, come on. Who do you like?"

George: "I like DeSoto."

Jerry: "DeSoto? What did he do?"

George: "Discovered the Mississippi."

Jerry: "Oh, like they wouldn't have found that anyway."
National football media guys are a mixed bag.  Leaving names out of it, some are absolutely horrid.  We should just ignore them.  Some make fairly obvious observations, kinda like DeSoto's discovery of the Mississippi, and yet still have a purpose and their share of fans.  Some are truly great, like Jerry's favorite, Magellan, who almost 500 years after his voyage around the globe, had a GPS system named after him.
If the common boating enthusiast tried to sail around the globe sans today's modern technologies, they'd wind up being shark food within a week.  Similarly, if the common fan tried to do the job of a national writer, they'd be canned in less than a week.
However, most fans follow one team, and keep an eye on 3 others.  That's 53+ players, 1 front office, 1 coaching staff.
National writers cover 32 teams.  That's 1,696+ players, 32 front offices, 32 coaching staffs.
Some Eagles fans, as well as some Giants fans (depending on how their season turns out), are going to be in favor of finding new coaches to lead their organizations.  Some fans will make rational arguments as to why it's time to move on, and others will make completely rational arguments why they should stay.
The folks looking for new blood can expect to hear condescending tones from national media types, both horrid and great, admonishing them for wanting to move on from their current head coaches.
If any national writers happen to stumble upon my humble little blog, please heed the following: The hardcore fans, as in the ones that follow their team for 12 months, know their team more deeply than you ever will.  Want to give your opinion on whether Reid/Coughlin should stay or go?  By all means, the more content on our teams, the merrier.  Compelling arguments are more than welcomed from those who cover the team 365, and the ones that just peek in from time to time.  We'll absolutely digest it all.
A couple years ago, we had to read countless articles about how dumb some of the Philly fans were for wanting to move on from Donovan McNabb.
National guys, just realize one thing before you go that route again with Giants and/or Eagles fans: If you resurrected Magellan, put him in the common fan's driveway and they raced to the nearest Wawa, Magellan would get smoked.  So let's keep the condescension to a minimum, please.
Speaking of should he stay or should he go… Awesome two-part series by Tommy Lawlor at IgglesBlitz:
The Case for Keeping Andy Reid
The Case Against Keeping Andy Reid
People keep sending me this picture of Jake Ballard's knee supposedly in bounds for what "should have been" a TD catch.  The ruling on the field was an incomplete pass, which was held up upon review.  Jerry Reese was also reportedly parading around MetLife with it in his hand: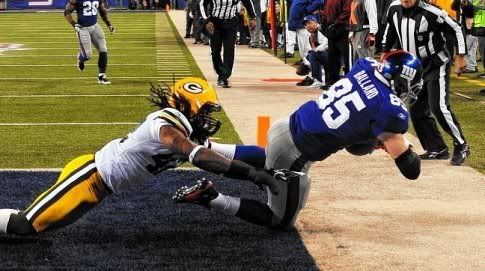 The trouble here is… Is his knee actually down or still in the air?  There's no way anyone can conclusively say it's on the ground, particularly when multiple video angles showed fairly clearly that it landed out of bounds.  But that's not the point I want to make here.  This play reminded me of the Bills-Eagles game earlier this season.  With :07 left in the half and the Eagles with the ball at the Buffalo 26 yard line, Andy Reid unwisely decided to take a crack at the end zone one last time before kicking the FG.  It backfired, as Vick took juuuuust a little too much time to unload the football and the clock expired before the ball went through the back of the endzone.
Except it didn't. With the help of DVR, Derek from IgglesBlog snapped a pic of his TV screen showing that the ball was caught with 1 second left on the clock by the guy in the bottom right corner of the screen that looks like he's taking a dump:
That potentially cost the Eagles 3 points, but there was virtually no outcry in comparison to the one that Giants fans have been making the past 2 days.  Why? Because Eagles fans rightfully directed their frustrations at the typical clock management gaffe by Reid, and the carelessness by Vick on the play.
Jake Ballard has been a huge pleasant surprise for the Giants this season, and has actually been better than Kevin Boss ever was.  But you know what the difference between him and most of the starting TEs in the league is?  Most of the other TEs make that catch and get get both feet in bounds with relative ease, leaving the officiating out of the equation.
Staying on that theme, I found it funny that one of the Giants that was outspoken on what he perceived as bad officiating was Victor Cruz:
"I'm not trying to get fined or anything, but it was just amazing how some of those things didn't get turned over," Victor Cruz said. "We felt on the sideline a lot of those calls were kind of iffy and tough to rule."
Remember that time when the officials spared Victor Cruz of being the goat of the week, and basically stripped away victory from the Cardinals?
Having some browser trouble, but I wanted to at least publish something this morning.  More random thoughts later.