As always, per Pro Football Focus:
(Note: They don't have the Redskins data done yet, but I'll review their snap counts when they're ready.)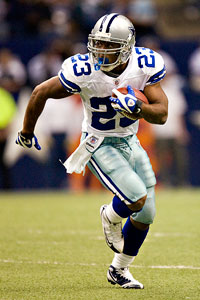 – Tashard Choice started, got 8 snaps, fumbled, and never saw the field again. It was actually probably a good thing he fumbled in a weird way, as DeMarco Murray steamrolled the Rams for over 200 yards. Choice might not see the field the rest of the season. I mean that. I'll even take it a step further – Don't be surprised if the Cowboys cut Choice whenever Felix Jones is healthy to return. He's been terrible. Fumbles, and that play against the Redskins where he ran out of bounds while Dallas was trying to milk the clock was one of the dumber plays I've seen all year – not Ronnie Brown or Juqua Parker level, but still really bad. How can Garrett trust him at this point? I know I wouldn't.
– DeMarco Murray had 43 snaps, and Phillip Tanner had 12 to round out the rest of the RB snaps.
– Tyron Smith and Montrae Holland each missed 3 snaps. Apologies, but this is just a guess (because I didn't watch the end of that game when Kitna came in), but I think that was just a situation where the Cowboys were just getting their best OL so far this season (Smith) and their rickety old guy (Kosier) off the field in garbage time. Kevin Kowalski and Jermey Parnell filled in.
– John Phillips had been getting some work at FB in addition to TE. He was looking like a major up and comer last preseason, but an ACL tear seems to have stunted his progression as an NFL player. He hasn't been good this year. Phillips' snaps were down to 9, his lowest of the season. Tony Fiametta got 39, and played well.
– I think we should do a Bradie James / Keith Brooking recap on the season so far. Sean Lee is getting almost all the snaps at one ILB spot, while James and Brooking have split duties as the other. Here's that breakdown:
| Game | James | Brooking |
| --- | --- | --- |
| Jets | 24 | 29 |
| Niners | 26 | 31 |
| Redskins | 26 | 15 |
| Lions | 18 | 18 |
| Patriots | 13 | 36 |
| Rams | 27 | 23 |
| Total | 134 | 152 |
– Pro Football Focus lists Frank Walker as having played SS for 22 snaps. They also list Gerald Sensabaugh and Abe Elam as playing the entire game. I'll have to take a closer look at how Walker was used. My guess would be that he was in during mop up time, but I'm wondering if the Cowboys did indeed use some 3 safety sets while the game was still competitive (and I use that term loosely). Apologies again for guessing. Anyway, for a guy that has been a marginal pro his entire career that the Cowboys signed off the street a few weeks ago, Walker has been pretty good this season.