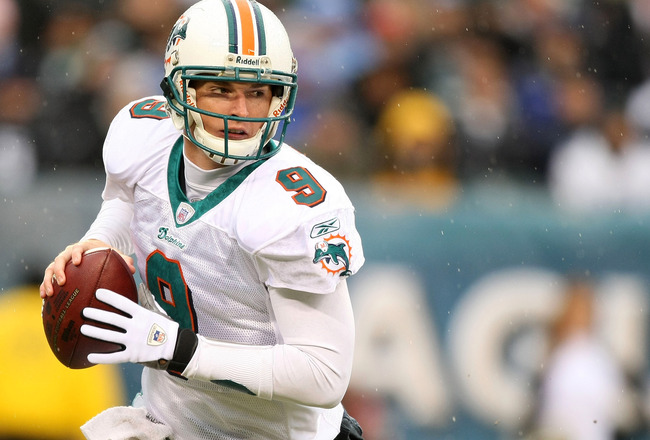 In about a week, the free agency floodgates will be wide open, and we'll soon see if Mike Shanahan is truly committed to John Beck as his starting QB in 2011.  I was able to dig up some game film of John Beck's first career start way back in 2007 against the Philadelphia Eagles, and edited together each of his 22 throws in that game.  Below I'll comment on every throw, but for the sake of saving you all the suspense… It isn't pretty.
Before we get started though, I should note that it's important not to draw any major conclusions about Beck's ability from this game film, for the following reasons:
–          As I mentioned above, this was Beck's first taste of experience… ever… in the NFL.
–          He was going against one of worst possible defensive coordinators to have to face as a rookie in the legendary Jim Johnson.  Good luck with Jim Johnson's exotic blitz packages, rookie.  In fact, the second defensive coordinator Beck had to face after this game was Dick LeBeau.  Welcome to the league, kid.
–          This Dolphins team was monumentally bad (they finished 1-15), particularly the offense.  Beck's skill position teammates were the following players: RB Jesse Chatman, WR's Marty Booker, Ted Ginn, and Derek Hagan, and TE's Justin Peelle and Aaron Halterman.  Ew.
With those disclaimers in place, let's just get right to it:
First drive:
–          3rd and 3 – DT Darren Howard gets good pressure on an inside pass rush, and Beck has minimal time.  He has a decent matchup with Chatman on Takeo Spikes, but the pass is off target.  Color commentary on the audio, by the way, is former heady QB Rich Gannon.  I'll disagree with Gannon here that Beck rushed his throw – If he doesn't rush the throw here, he's sacked.
Second drive:
–          2nd and 16 – Beck finds Ginn underneath, and gets himself a more manageable 3rd down.  Easy throw here, but he makes it.  First NFL completion.
–          3rd and 6 – Easy throw, and Beck misses badly.  Punt.
Third drive:
–          2nd and 8 – Tough to see what Beck had downfield on this one, but we'll give him the benefit of the doubt and say he took what he could get by hitting his TE for what should have been a minimal gain, but turned into a decent one when Peelle was able to shrug off the tackle attempt of Chris Gocong.  On a side note, I'm suddenly reminded of Gocong's crappy LB play as an Eagle.
–          3rd and 2 – This is a bonus play for everyone, since he didn't throw a pass.  I like the mobility here.  Didn't know this was part of Beck's game.  He makes Juqua Parker (at the time Juqua "Thomas") whiff on a free shot at him, knows he only needs a couple yards, and gets them.  Nice play.  First down.
–          1st and 10 – Just… wow.  I really don't even know where to start on this one.  Just awful.  On the replay, Beck essentially has his back to the defense and throws a lateral to his running back, who doesn't seem to even expect to have the ball thrown to him.  And this isn't just an "oops" variety of lateral – Chatman is a good two yards behind Beck when Beck makes the throw.  And to make matters worse, Beck misses Chatman on this short throw by a mile.  Forget the pros – This is an embarrassing play for a Pop Warner kid.
–          3rd and 12 – Really nice pass here.  Beck gets a clean pocket, and places the ball perfectly in between 5 Eagle defenders. Really like how he throws to a spot here, and the ball meets Ginn in stride for a first down on 3rd and long.  Good ball, and short memory from that lateral.
–          1st and 10 – Decent play fake, nice accurate ball to Ginn on the move as Beck moves to his right.  Side note – look at the glaring hold by the FB on Trent Cole.
–          3rd and 11 – Bad decision here.  The Eagles bring 6, but the Dolphins pick up the blitz and give Beck some time.  Beck stares down his receiver, who is not only covered well, but also short of first down yardage anyway.  Had Beck moved to his next progression, he would have seen his slot receiver running open across the field for a first down.  Missed opportunity.
Fourth drive:
–          2nd and 8 – Another miss on an easy throw, but that's not what bothers me about this play.  After the semi play fake, Beck stares down his running back who is running a simple pattern into the flat.  I can understand a rookie staring down a receiver running a 15 yard square in.  There's a lot to process down field with that kind of throw.  Where are the linebackers? Are the safeties 2-deep?  Corners in man?  Is there a robber?  That I can understand.  But to stare down your RB running into the flat is unacceptable.  There shouldn't be a lot to process there.  Very simple to try to look off the linebacker before making that throw.  Back quarterbacking here.
Fifth drive:
–          2nd and 9 – Oof.  This is ugly.  It's a screen pass, the Eagles defend it well, and Beck makes a perfectly acceptable decision to throw it away and live another day.  But look at the happy feet.  There isn't even a rush in his face, there is all sorts of wasted movement with his feet, and the pass he throws away is completely off balance.  I realize it sounds silly to critique a QB for being off balance on a throwaway, but with nobody near him, there's no reason at all he should be off balance.  I don't know how many screens Beck ran at BYU, but a QB that threw almost 1,300 passes in college should look more poised than this, even in his first game as a pro.
–          3rd and 9 – Bad pass, well behind the intended receiver, and it isn't going to be a first down even if he completes it.  The Eagles bring 7 on this one, and again, the Dolphins do a decent enough job picking up the blitz.  Gotta hang in there a little longer.
Sixth drive:
–          2nd and 7 – Receiver is well covered, but I don't have much of a problem with this pass.  Beck had yet to try anything down field longer than 20 yards, and you have to at least make the defense respect that you're willing to take a shot.
–          3rd and 7 – I like the pocket awareness here.  Good footwork, settles into the open pocket and finds the correct receiver.  Unfortunately, it's simply a bad pass.  Gets a little too much air under it than preferable, and the pass is behind his receiver, who is open.
Seventh drive:
–          2nd and 3 – Again, he's all over the map here.  His feet are moving faster than his brain at this point.  Settle down, John.
Eighth drive:
–          1st and 10 – This is Beck's first completion in his last 8 attempts.  Easy little dump over the DE to the TE, but he makes it.
–          1st and 10 – Not enough info here, not being able to see the developing routes downfield.
–          3rd and 11 – Another bad pass.  This time he leads his TE too much and almost has it picked off after a deflection.
Ninth drive:
–          1st and 10 – Cam Cameron is clearly running all easy routes, and the Eagles are just sitting on them.  Complete pass for 3 yards and a quick tackle.
–          Decent ball placement, obviously a little high, great route and catch by Booker.  Good recognition by Beck of Takeo Spikes trying to cover the slot receiver and attacking that matchup.
–          1st and 15 – Throws to the right guy, but another misfire.
–          2nd and 15 – Nice job all around here by Beck.  Good fake, good timing, good pass.  Again, sort of an easy play here, but executed perfectly.
–          2nd and Goal from the 2 – This may sound nitpicky considering Beck put the ball in the hands of his receiver, but I really don't like the ball placement here.  This ball needs to be placed closer to the corner of the end zone away from the defender.  As is, Spikes has the opportunity to rip the ball away from the receiver.  Bad ball for a pro QB.
–          4th and Goal from the 2 – Another bonus one here, as it's not a pass.  This play is doomed from the start, but I'm going to nitpick here.  Beck has to do a better job carrying out his fake before making this pitch.
Tenth drive:
–          1st and 10 – Little screen pass in garbage time complete to close out the game.
Overview:
John Beck will be 30 years old by the time the season begins this year.  To put that in perspective, we all think of a player like Tony Romo as a late bloomer, but Romo is entering his 6th year as a starter in the NFL.  Romo is exactly 1 year and 4 months older than Beck.  That's it.  How much upside can Mike Shanahan really see in Beck?
More importantly, Beck has never been more than his teams' #3 QB his entire career, to date:
–          In Beck's rookie season, he was the #3 behind Trent Green and Cleo Lemon.  After Green got hurt and Lemon was ineffective, Beck appeared in five games.  He hasn't played a single NFL snap since 2007.
–          After Beck's rookie season, the Dolphins acquired three QB's. They signed both Chad Pennington and Luke McCown, and drafted Chad Henne.  Pennington won the starting job, while Henne became the 2. McCown injured his finger chopping firewood and was traded to Carolina.  Beck survived one more season.
–          During the offseason after his 2nd season, still buried as the 3, the Dolphins drafted Pat White, and cut Beck two days later.
–          Beck then signed with the Ravens, and he was again the 3 behind Joe Flacco and Troy Smith.
–          Last offseason the Redskins traded Doug Dutch for Beck.  He was the 3… again… behind Donovan McNabb and Rex Grossman.
–          This year it appears that he'll at least be the 2 to start a season, a first for Beck.
Like I mentioned before the game review, it's difficult to really put much stock in his performance in his first ever NFL experience with a terrible offense.  Still, don't you at least want to see some evidence on tape that a guy can play at the NFL level?  Honestly (and again, 22 passes is an extraordinarily small sample size), I didn't see much of anything that I really liked.
I have no answer for why Mike Shanahan might try to be deceptive about declaring John Beck as a real option to be the starting QB for his team.
But I don't buy it.